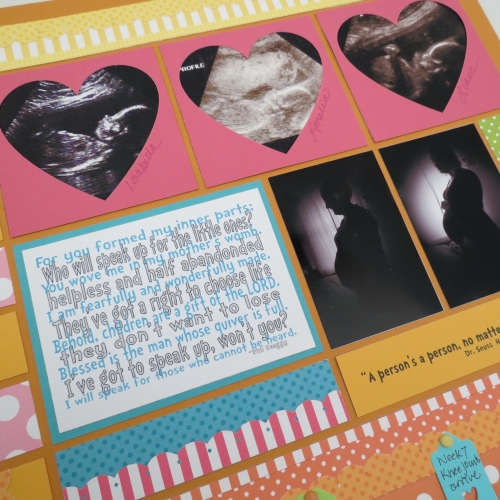 The Lorax Challenge
For many of us across this nation we've had a long winter and are eager to see things burst into bloom and fill the view with lots of color. Our Lorax Challenge has given us the chance to bring some color to our pages with a bit of whimsy.
The Lorax by Dr. Seuss was our inspiration for this challenge. The typical bold bright Seuss colors had many choices for us in the way of our 12" x 12" Mosaic Moments Grid choices, Raspberry, Orange, Sunshine, Green, Bahama Blue, to name a few and my choice of Mango.
In this month's newsletter, Paije Rodriguez provided us all with tips on how to "Seussify" our pages, be sure to check it out HERE if you'd like to take up the challenge!
I chose to use pineapple bliss, cyclamen pink, and medium aqua paper tiles for accents and patterned papers from Simple Stories DIY Boutique and Doodlebug Designs. I used a few colors from the Tropical Collection of American Crafts cardstock for the tiny tags. I also used our Heart Frames in Cyclamen Pink.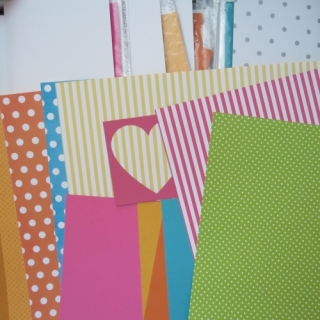 I used a little bit of Aqua ribbon for a tab, yellow, green and orange tiny brads, EK Success lace punch, tiny tags die and EK Success 1" Square Whale of a Punch.
I created my journal block on page one in 'Print Shop Pro,' something that I'm just learning to work. Seems I'm always asking my daughter "how-to?" as I never seem to remember! I used the fonts Doctor Soos bold and light that Paije shared the link to and applied a narrow outline around the bold letters.
The theme of the book, The Lorax, is an environmental one. There have been several quotes that have come from the story, one being "I am the Lorax...I speak for the trees, for the trees have no tongues."
My pages aren't about the trees, but something I feel passionate about of far greater value…the unborn children who have lost their lives to abortion in this country since 1973; I choose to "Speak for the Little Ones" the ones who have no voice. I have used the refrain from the moving song "Little Ones" by Phil Keaggy and have arranged them between several Scriptures that speak to the value God places on children. I used a second Seuss quote that fits with my theme that is from Horton Hears a Who! "A person's a person, no matter how small."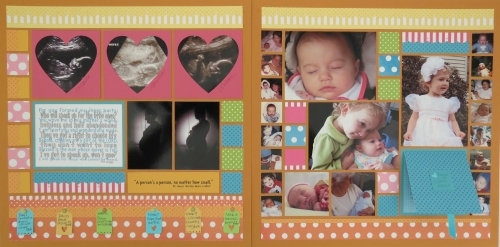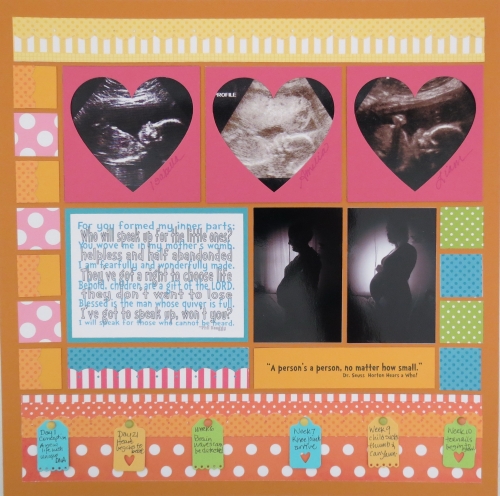 Overall, I chose to make this first page a focus to life before birth as we've experienced it in our family. I have the ultrasound photos of each of the grand-babies, Isabella, Amelia and the one who has been threatening to arrive by the time this layout posted, our first boy, Liam, in our Heart Frames. Then I have silhouettes of Libby and Sheri in vignette. I had taken pictures of Libby through all nine months and plan to incorporate it in another layout down the line. At the bottom of the page I have six tags, each with a fact of baby development from day one to week ten.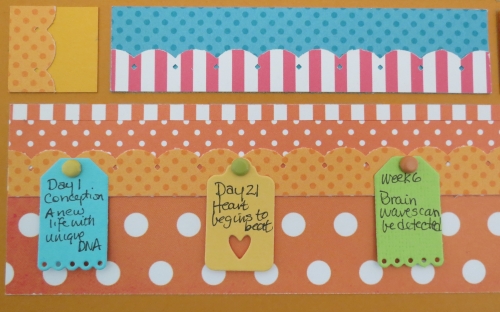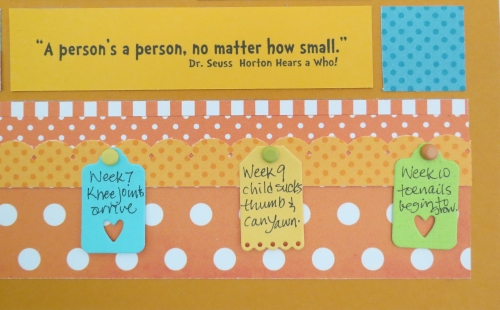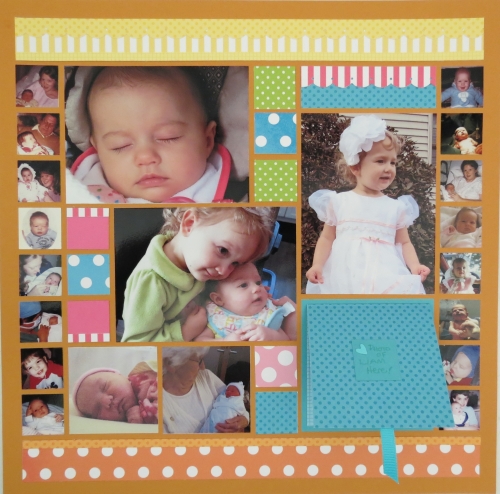 On page two I carried over the border treatments on page one. In the center of the page I have clustered the photos and a few bursts of 1" squares of color blocks. I have a picture of each girl on their first or second day of life, one of each of them from this past week, and then one of Izzy holding Emmi. With the girls together almost every day here, Izzy has been able to practice for the coming of her new little brother still two weeks to go before he's due!! When he arrives, I have a square reserved to place his photo on. It is actually a flip hidden journal block. To see how I prep the page protector to accommodate this type of element see this challenge HERE for details on the 'basic how-to.'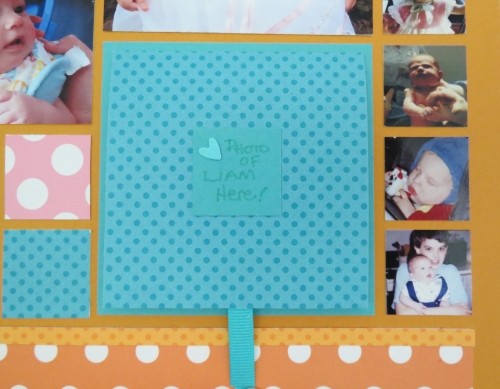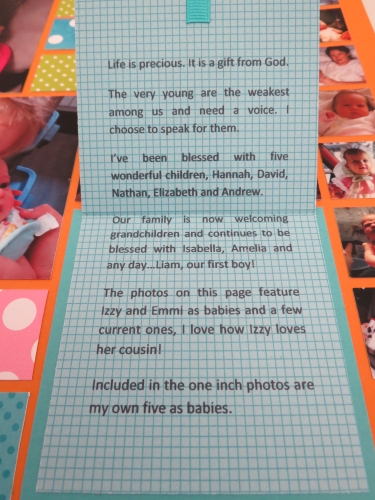 On the outside columns I have a series of 1" photo squares with pictures of my own five kids when they were babies, to add another element of interest.
One tip that Paije gave us was to ink the outside edges of our photos and papers to imitate Seuss's style. I really liked that but I was just too timid to try it out! I think it would have been a great way to add dimension to the layers of papers and cuts that I've made so they would stand out. Doing it after the fact with a micron pen is being considered, but my practice attempts did not yield the result I wanted. I'll keep practicing!! Here's what it looks like for now...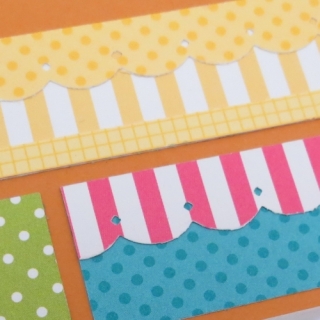 I wanted to keep the focus of these pages on the value our family has placed on life, and the precious babies that have been entrusted to us to love and care for and cherish. I do however, continue to be outspoken whenever I have the opportunity. Visit my blog for more info and be sure to view a short YouTube spot that only takes a few minutes, and will show you why we all should care. Here's a peek…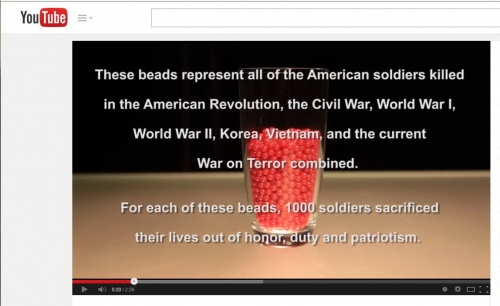 Thanks so much for stopping in and joining us for The Lorax Challenge. If you have decided to try your own Seuss inspired page I hope you'll share it with us here, or on our Facebook page.
Wishing you a wonderful Celebration of the Resurrection!!
andrea
Shared by Andrea Fisher on April 20, 2014 | Memory Date: April 20, 2014