For the second August Design Team challenge, we were to use the Husk grid paper, use Page Pattern #14 and use either handwritten journaling or a clear stamp or a free download.
Here is Page Pattern #14. It features space for 16 photos.
In my scrapbook every year, I like to feature a page that shows off some of the flowers in my garden. I decided to select a few blooms that I really liked to showcase. My anemones and my scabiosas are pretty in mass, so I decided to use those as a 16 photo background and set the 5 prettiest blooms off at angles.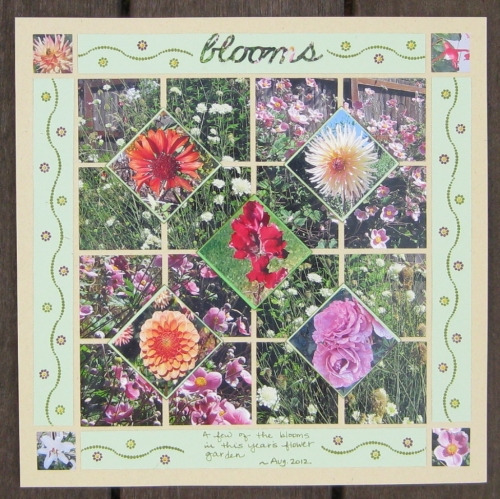 I chose the squiggle line stamp from the Summer Seals set (it reminds me of snail trails) and I used a small flower stamp from the Calendar Circle set in the squiggle valleys. I added yellow Viva Decor Pearl Pen centers to the flowers. I went ahead and used handwritten journaling as well, to document what my page was about.
Shared by Sarah Lewis on August 21, 2012 | Memory Date: August 20, 2012