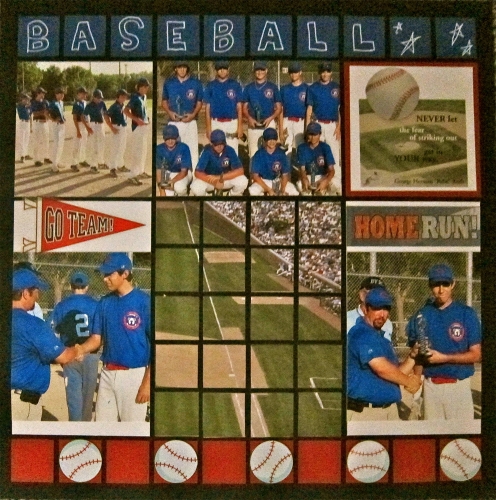 Our second challenge for July was to use navy grid paper and pattern #60.
I chose to use some pictures from my Grandson Brock's baseball season, because I thought the blue of the uniforms would look good with the navy grid paper. I really hadn't planned for the whole look to be red, white, and blue, but these pics were taken near July 4th, so guess those colors would be appropriate. (They are seldom inappropriate!).
I didn't have many pictures, so I had to use several "fillers" to make up the 2-page spread.
One of the choices was to use doodling, so I drew my own letters and added "homemade" stars. I had never done letters before, but I was fairly well pleased with the way they look. I didn't even practice before making them.
I had been looking for a way to use the 4 x 12 picture at the left on the first page, and it seemed to fit this layout very well. The quote to the right of it says: "It's just throwing and catching and hitting and running. What's simpler than that? Actually, when I was growing up, and we played baseball in phys. ed. class, it was NEVER simple for me. I swung at every pitch, whether it was over my head or on the ground!
In case you can't read the quote from Babe Ruth, it is: "Never let the fear of striking out get in your way." A good motto for life in general.
My main hope is that my 15-year-old grandson will enjoy my attempt at depicting part of his sports activities. I am, of course, his #1 fan!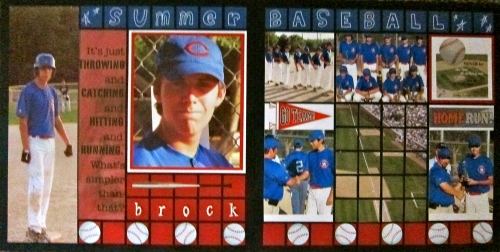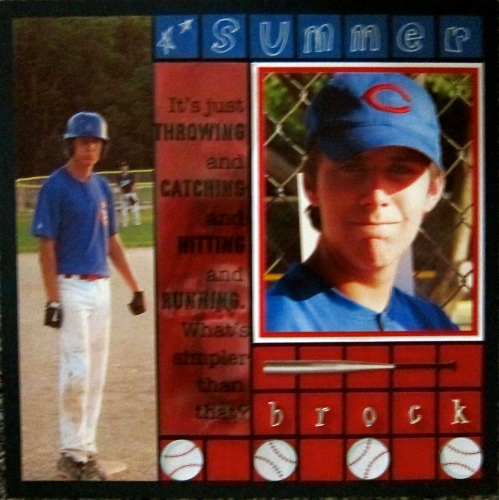 Shared by Linda Holmes on July 20, 2012 | Memory Date: July 20, 2012