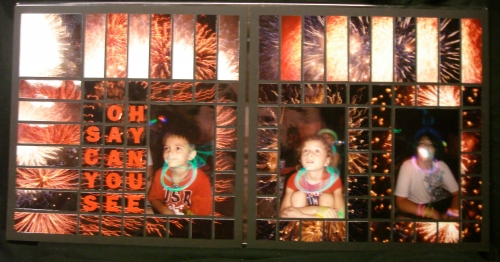 For the first July Design Team challenge we were asked to take photographs with a patriotic song as our inspiration. I LOVE to take fireworks pictures so my first choice was the Star Spangled Banner. I envisioned myself using lines like "Rocket's Red Glare" "Bombs Bursting in Air" and maybe even "Gallantly Streaming" in a scrabble/crossword pattern surrounded by fireworks shots. But, when I started going through all the pictures I took at this year's Independence Day celebration, these pics just jumped out at me and I knew what I had to do. "Oh say can you see?"
These are shots of my niece and nephews in their glow attire watching the fireworks with pure awe in their eyes.
I started out by arranging the photo in strips but then it occurred to me to alternate them. I couldn't decide if I liked them better in the horizontal strip over the children's heads or in the vertical strip reminiscent of the flag, so I went with a little of both.
Shared by Deborah White on July 10, 2012 | Memory Date: July 10, 2012