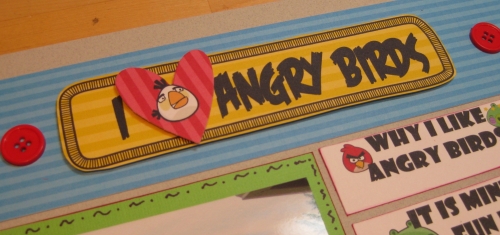 For the second June Design Team challenge, we were to use granite grid paper, Mosaic Moments page pattern 23, which featured a list ladder and I chose buttons as my element to include with my design.
I recently purchased an Angry Birds flag to fly outside of my house. It took my kids a few days to notice the new flag and they were not real thrilled my purchase! Which was what I had expected from them---they think I am nuts and kindof obsessed with Angry Birds! Thus, the idea for my June page was hatched....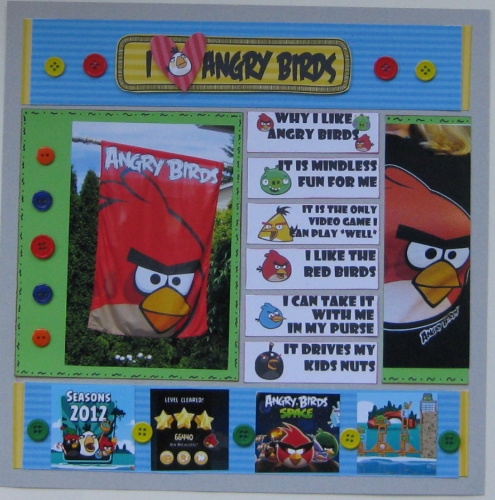 I play Angry Birds on my iphone and on my Nook, which makes it great for all those moments that I spend sitting in my car waiting for my kids. I took some screens shot off my iphone to use on my page and I made a list of reasons why I enjoy playing Angry Birds. The photo on the right is me in my Angry Bird t-shirt--my husband got it for me for Christmas and my kids really think I am crazy when I wear it. They have told me I can't leave the house with it on!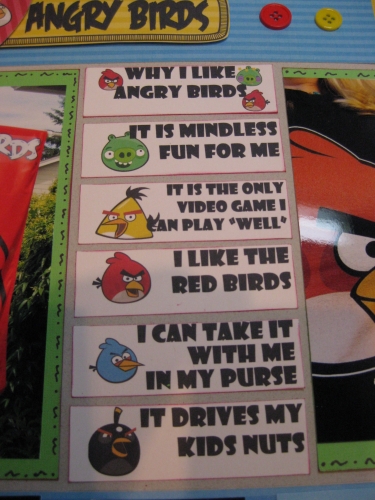 Shared by Sarah Lewis on June 25, 2012 | Memory Date: June 24, 2012