This challenge was to choose a person and an element that I thought matched their personality. I chose our 8-year-old grandson, Lucas Phillip Holmes. When Luke was two, he was diagnosed as having mild Autism. He has since been given every chance to have a "normal" life (if there is such a thing). At first, he had several special teachers who came to their home for different develop- mental training. When it came time for him to go to kindergarten, my son and his wife chose to send him to public school. He has now finished second grade.
Luke is an amazing boy. When he was five, he could recite his alphabet forward and backward in four languages. He also learned all the states and their capitols and where they ranked alphabetically. At the end-of-school talent show when he was 6, he sang all the states in alphabetic order in front of a huge crowd. The applause was music to our ears, especially his mother's. She has been teaching special needs children for about 20 years. Thanks to her, Luke was diagnosed early and was able to receive early intervention.
I chose light grey grid paper and dark teal accents. I used LUKE and AGUA for the titles (WATER wouldn't fit). I tried to find pictures which went along with the journaling. The little pics on the LUKE page are of him swimming, and the ones of the AGUA page are of water.
We had a major flood here last summer, so the flooding pictures were taken locally at that time. Our interstate north of here was closed for three months. The waterfall and the stream are located in Crossville, TN, taken when we were on vacation there last year.
I couldn't get the pages or the journaling in the correct order. The LUKE page should be first, and the closeups of the journaling are reversed. Maybe I will be able to get it right next time.
Please don't feel sorry for Luke or his family. We have been and continue to be so blessed to have him as a big part of our family. We just know he will do something exceptional someday (in addition to what he has already done). After all, Bill Gates is autistic, and he hasn't done too badly, has he?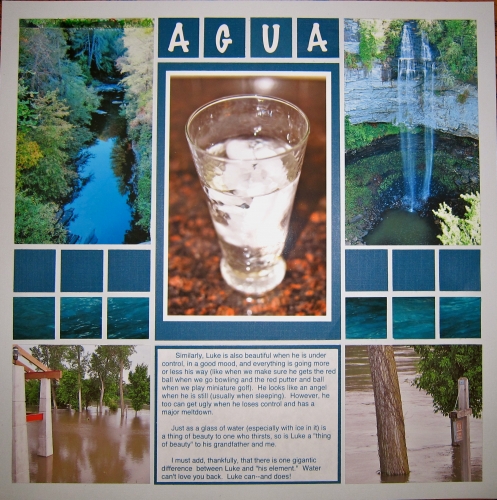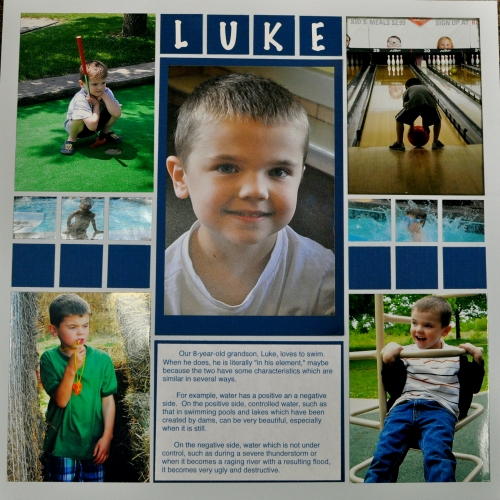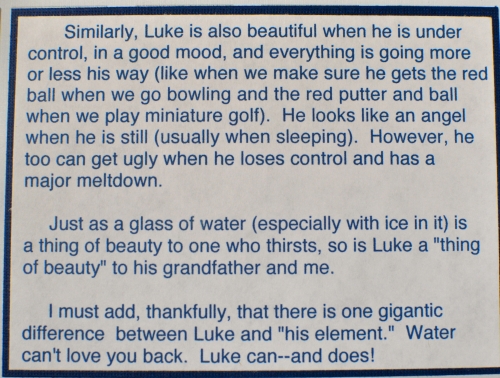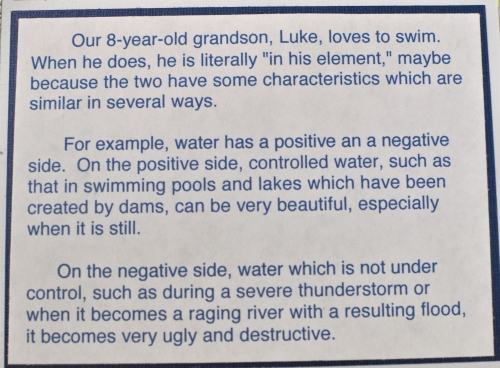 Shared by Linda Holmes on June 12, 2012 | Memory Date: June 11, 2012