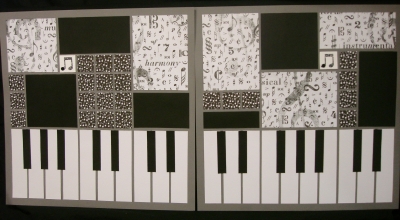 Have you ever seen something and thought "that would make a GREAT mosaic?" It happens to m all the time. For weeks, weeks I tell ya, I have been envisioning this piano keyboard layout in my head. I could imagine the 1" strips being the white keys but I had to play around and do some research to make the black keys proportionate. I thought and played and worked like crazy to come up with this layout to showcase my niece's recital pictures. And, guess what? The pictures turned out so crummy (dark) that I haven't been able to use them!! But, I just had to get this layout out of my head and onto paper. I hope you love it as much as I do!
The music note papers are from the Paper Studio and I added a couple of little bling music note stickers.
I guess I'll keep working on the recital pic editing!
Shared by Deborah White on May 28, 2012 | Memory Date: May 12, 2012