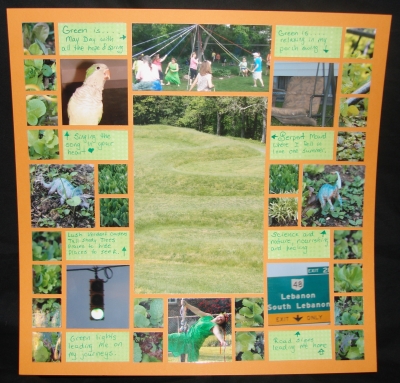 Green is NOT one of my favorite colors. I am pink girl to the core. But pink isn't one of the 8 basic crayola colors. So, I thought maybe I should go with a color that doesn't "speak" to me and try to listen to it for once. Kermit the frog's "It's Not Easy Being Green" came to mind.
Here are some of the things it said to me:
Left column:
Green is . . . May day with all the hope of Spring
Singing the song in your heart
Lush, Verdant Gardens, Tall Shady Trees, Places to Hide, Places to Seek
Green lights leading me on my journeys.
Right Column:
Green is . . . relaxing in my porch swing
Serpent Mound - where I fell in love one summer
Science and nature, nourishing and healing
Road signs leading me home!
The macro shots with the plants (and the dinosaurs) were taken in the garden of my friend, Tracy Jo, who is prominently featured at the bottom center, exalting the may pole!
Hope you like it.
Shared by Deborah White on May 9, 2012 | Memory Date: May 7, 2012