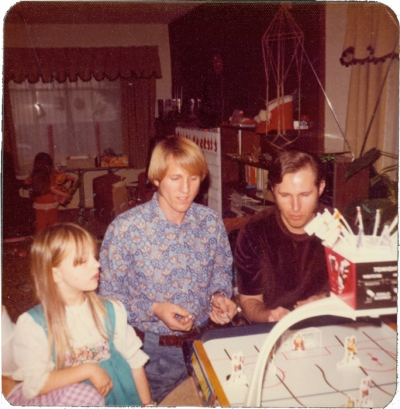 It is always fun to come across old photos, especially the ones that bring to mind a wealth of memories.
It was a Christmas Day in Portland when the above photo was taken.
My brothers are playing a hockey game my parents purchased as a family gift for Christmas. We had a lot of fun with that over the years.
I (girl on left side) am wearing a dress that I absolutely loved and wouldn't give up. The problem is, by the time I am wearing it here, it is so short that I am wearing it as a shirt and the long sleeves are now half sleeves.
In the background you can see so many things like the green curtains my mom made - gotta love 70's and that brown pompon trim!
There is a big red felt boot on the shelf. My mom made the boots to fit over cans. We used these instead of stockings. (The big gallon can was Mom & Dad's - the kids boots were soup can sized.)
The thing hanging from the ceiling - an example of macrame plant holder - popular in the 70's.
There is a great big picture window in the room - I have so many fun memories about that window and how we would decorate it for the holidays (If you could look very close you'd see the backward letters "NOEL."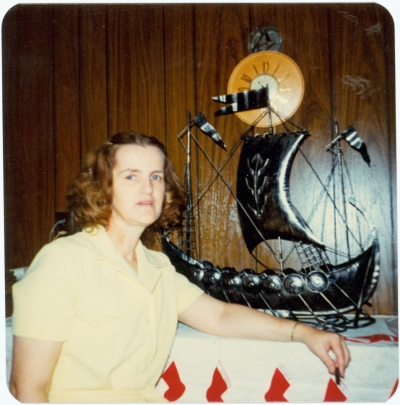 On that same Christmas Day my mom received a large Viking Ship as a gift. She also received some black Spanish style lamps and an elephant plant stand. (I am not going to say she would have chosen these items for herself - but, they were decorative elements in our home for MANY years beyond 1974. (So, you can conclude that she obviously loved her children!)
Shared by Tami Potter on April 20, 2012 | Memory Date: December 25, 1974