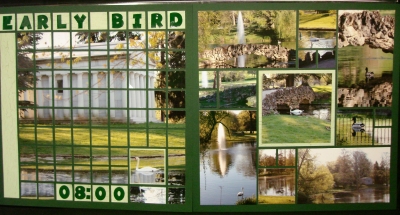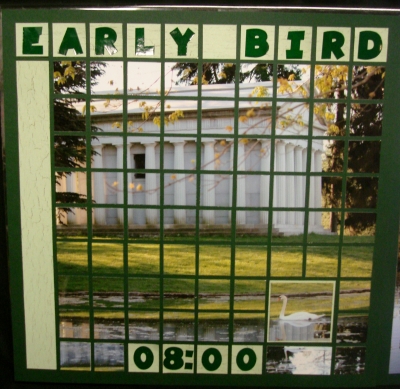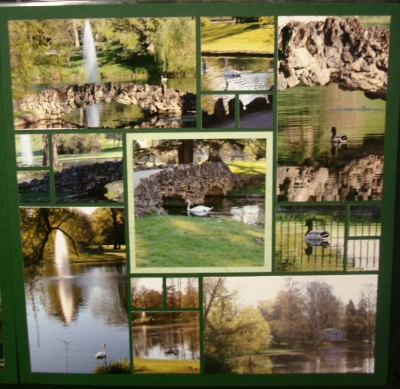 As a self-proclaimed night owl, I always say no amount of money will get me up in an hour that starts with "O" - as in 0-six hundred! Years ago, when someone would give the time in military time, my friends and I would shout "what's the 'O' stand for?" and the response was always "Oh my gosh, it's early!" So, let's just say I got up at 6:00 a.m. on a Saturday for the fame, okay, Tami?
But, hey, sunrise was going to be at 7:10 a.m. and I had found the perfect spot to take my light and shadows inspiration at dawn. Okay, so the first problem was getting up and getting going. But, I did it! Then, I drove about 30 miles away to this cemetery in Cincinnati where I wanted to take my pictures. The problem was, I arrived at 7 and the cemetery didn't open until 8!!! Ugh!!!
I drove to a park and took a few shots that will lend themselves well to a panoramic-style mosaic some day. I got myself a jumbo coffee. Then, at 8, I returned to the Spring Grove Cemetery and secured some AMAZING shots. I had so many random shots that I had a hard time deciding just how to organize my thoughts. Then, I found a theme common among many of my shots. BIRDS!!! Lots of birds -- robins, geese, ducks and a very flirty swan. There was even a very elusive cardinal who flitted just out of range every time I got my lens focused!! Maybe he's a night owl, too?
Shared by Deborah White on April 12, 2012 | Memory Date: April 7, 2012