A couple of years ago Kevin and I decided to go to the Farmers Market in Colonial Williamsburg. While we were there we came across a local grower with beautiful peonies. It was just about the end of the season for the flowers; but, one of them caught my eye. It was called Bowl of Beauty. I had never seen that variety before and I just couldn't leave without it. Kevin dug some cash out of his pocket to pay the man and I happily walked away with a beautiful new addition to my garden.
I took several photos of the quickly fading plant; so, I could remember what I had to look forward to the next spring.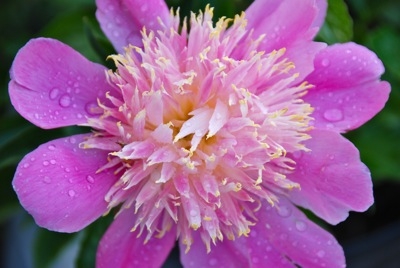 When spring came again, as we always do, Kevin and went out into the garden to pull the weeds, cut back the dead stuff etc. This year there were so many weeds that Kevin decided to spray them. There was just one problem...Kevin isn't great at distinguishing the weeds from the flowers. My beautiful peonies (and several other flowering plants) didn't come back.
This year, while shopping at Costco, I spotted a bag of peonies that included 2 Bowl of Beauty roots. I was very excited that I'd be able to re-plant!
A few days ago, while Kevin and I were digging the holes for our new flowers, I spotted a peony sprouting - it looks like the original root was not harmed by the weed killer. What a delightful surprise!
Spring is such a wonderful season - so much to look forward to!
Shared by Tami Potter on March 22, 2012 | Memory Date: March 22, 2012