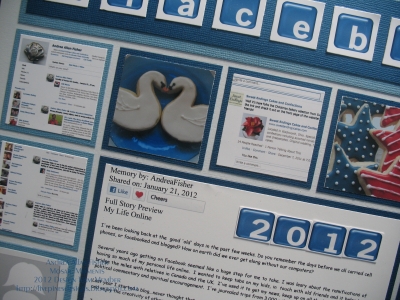 The feature for this challenge is the "Mist" color Mosaic Moments grid paper. In addition, there were three choices for other elements to be included, I chose clear stamps. I had some great ideas, knew exactly what I wanted to do, until I sat down to work...Three or four 'ideas' later, and a looming deadline, with nothing that was satisfying me, I decided to start all over again. This time I began with the mist grid paper, a lovely pale blue shade that really screamed a frosty winter scene to me, but no, not this time. I began again by pulling out all the blue cardstock I had trying to find inspiration and a great combination. Bazzil Basics Artic Trio provided two perfect shades to work with.
I was one step closer to an idea. but still trying to figure what I could do, which photos to use, which way to turn the layout, however, I was still clueless as to an idea. My daughter, Hannah, stopped to watch me stew away, giving me the latest updates of the world beyond my studio, and as she left she said..."looks like Facebook colors." SO...the wheels began to turn and an idea began to take shape.
I have dabbled with digital scrapbooking and happen to have a digital kit that is a facebook theme. (through oscraps.com) I have integrated some of the elements from that kit that are reminiscent of Facebook. The "My Life Online" post written and posted in My Journella, and printed out, is the center piece of the "@facebook" layout. FB is where I have made all of my connections to the items in the layout.
I have used images from my blog, Five Pines Designs, of cards I've made and posted for Blog Hops, Snippets printed from Journella.com of posts, images and filled the center section with a post from My Journella describing this layout. My personal FB page and our FB page for my daughter's licensed home bakery, Sweet Endings Cakes and Confections, with a few of our cookies that I do. It's a peek at my online world. A world that has really opened up to me in the past few years. Who could imagine we'd all be so dependent on our computers? Documenting how I use mine today, before it all changes again, is what I wanted to accomplish in this layout.
The element I have added into this layout are the clear stamps. I used the month, day, date from Impression Obsession HS204 Circle Calendar and the background square with the winter words CL105 also by IO, both designed by Tami Potter. The winter words were stamped on blue with the Versa Mark watermark stamp pad, and then the day and date stamped in Color Box-Pigment brush pad-Cerulean.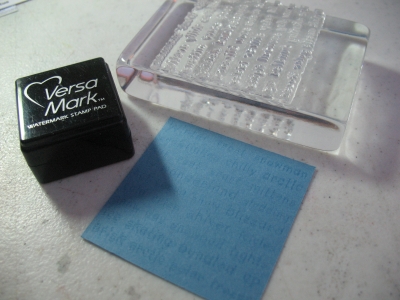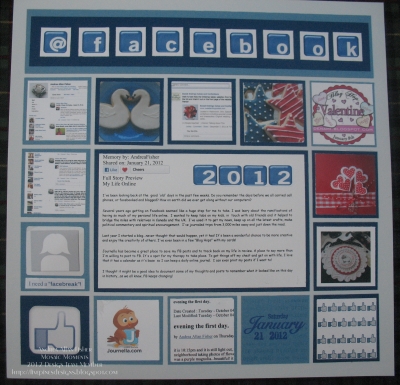 The journaling piece details:
My Life Online
I've been looking back at the good 'old' days in the past few weeks. Do you remember the days before we all carried cell phones, or facebooked and blogged? How on earth did we ever get along without our computers?
Several years ago getting on Facebook seemed like a huge step for me to take. I was leary about the ramifications of having so much of my personal life online. I wanted to keep tabs on my kids, in touch with old friends and it helped to bridge the miles with relatives in Canada and the UK. I've used it to get my news, keep up on all the latest crafts, make political commentary and spiritual encouragement. I've journaled trips from 3,000 miles away and just down the road.
Last year I started a blog...never thought that would happen, yet it has! It's been a wonderful chance to be more creative and enjoy the creativity of others. I've even been in a few "Blog Hops" with my cards!
Journella has become a great place to save my FB posts and to track back on my life in review. A place to say more than I'm willing to post to FB. It's a spot for my therapy to take place. To get things off my chest and get on with life. I love that it has a calendar as it's base so I can keep a daily online journal. I can even print my posts if I want to!
I thought it might be a good idea to document some of my thoughts and posts to remember what it looked like on this day in history...as we all know, FB keeps changing!
Thanks so much for taking the time to stop and take a peek into my world. I hope you might take the time to document a piece of your history before it's gone.
andrea
Shared by Andrea Fisher on January 21, 2012 | Memory Date: January 21, 2012