I am thankful that I was recently able to meet Tami at the CKC convention in Seattle and I was able to sit in on one of her classes. I was really intrigued by this layout and wondered how Tami accomplished it. During her panorama class, she showed us how easy it is to create this amazing photo display.
After finishing the pages at home, I thought that maybe my family's Thanksgiving photos would be great in the photo mats. The colors in the pages felt like Fall to me, so Thanksgiving seemed like a good fit. I took lots of photos on turkey day and picked a few that best represented our celebration. I am thankful for my family and the great times we have together!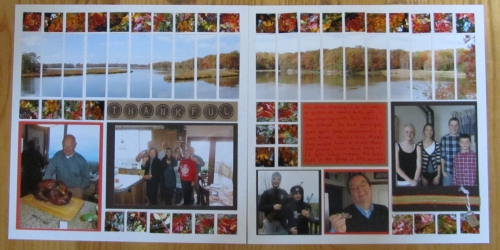 If you ever have an opportunity to take Tami's panorama class, do so. I give it 2 thumbs up!!
Shared by Sarah Lewis on December 23, 2011 | Memory Date: December 22, 2011