When my daughter, who loves cookies, decided to get married in December I knew that I wanted to serve hot cocoa and cookies at the reception. Over the next few months I did a lot of shopping, hoping to find some delicious pre-made cookies but I wasn't satisfied with what I found. So, I began searching the internet for recipes instead.
I have always loved the cute frosted cookies shown in magazines so I was really excited when I came across a blog called BAKE at 350 with tutorials about how to make them.
My first attempt at making the cookies was for a Christmas cook exchange. I made Christmas trees - they were pretty cute.
The second try was for the wedding reception. Paije and I made several dozen wedding cake shaped cookies. It was a three day process. Day one bake. Day two outline and fill with royal frosting - let dry overnight. Day three add sanding sugar, place in bag and tie with a ribbon.
I made a scrapbook page to remind us of the fun we had.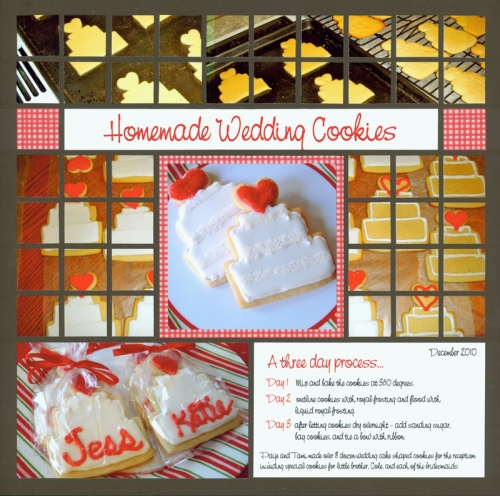 It was a labor for love!
Shared by Tami Potter on October 3, 2011 | Memory Date: December 10, 2010