For our latest design team challenge, we were to take inspiration from Lewis Carroll's Alice in Wonderland. I decided to do a page about my wonderland, books!
I love to read and I find that I "fall down the rabbit hole" when I start a new book. I enter myself into the story and really feel the emotions the writer is trying to evoke. My kids think it's crazy if they see me cry or laugh out loud while I am reading. Going to the library is my favorite thing to do. My kids have a love of reading as well, so I sit in my favorite spot in the kids library in a corner and read,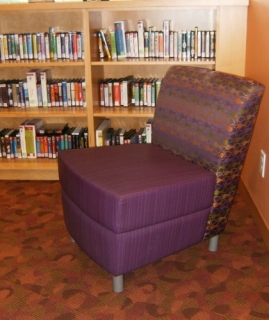 while they go looking for their next adventure in a book.
I really like the swirling effect used when Alice spirals down the hole so I tried to recreate that on my page. I started with Mosaic Moments paper in white. Then used my 1" punch on some stock purple and pink paper to make the swirl.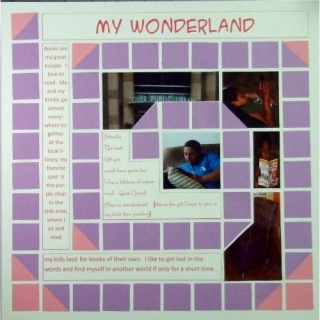 I used my digital camera on the timer setting to get a picture of myself in my usual reading spot on the couch with my kindle. I did an online photography course that talked about how to set up self timed shots and I thought this would be a great time to try it out.
I had to be a little creative to get in my journaling, but it helps to plan out the page in my photo shop to I can type in the journaling in the size and shape I need. The quote in the middle from Lewis Carroll [Actually the best gift you could have given her was a lifetime of adventure] is one of my favorites. I wanted to fit it in and with a few trys I figured out how to set the type and then cut the 3x4 square to fit around the photo. It helps to use a light pencil line before cutting.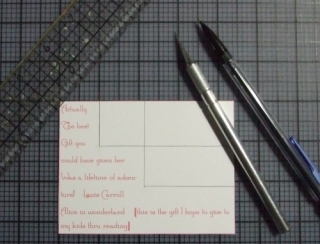 Thanks for stopping by my wonderland!
-Melissa
Shared by Melissa Fulgham on July 8, 2014 | Memory Date: July 7, 2014