This is one of the quotes from the book "Pride and Prejudice" by Jane Austen, our literary inspiration for June.
When I saw this theme and started to add items to Pinterest,
I knew right away what I wanted to do...now to make it work! The quotes and the romanticism of the story and of the era made me want to tackle the photos from our engagement that I still hadn't scrapped! I chose 5 quotes that I thought would fit with my photos and the layout, and printed them on ivory cardstock using the Edwardian Script Font. (I had to reprint a couple to make them a better size for my layout!)
I chose the photos and cropped the ones on page one down to 4x4 size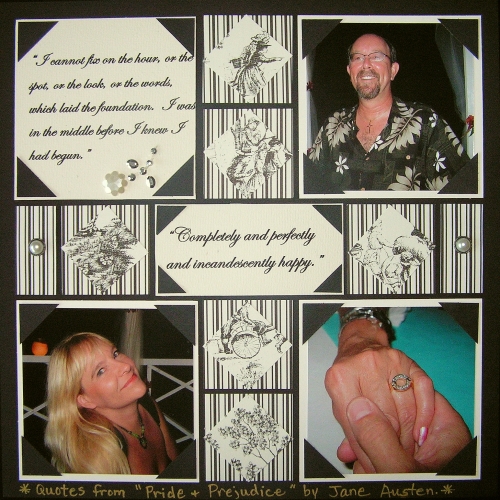 and left the ones on page 2 whole.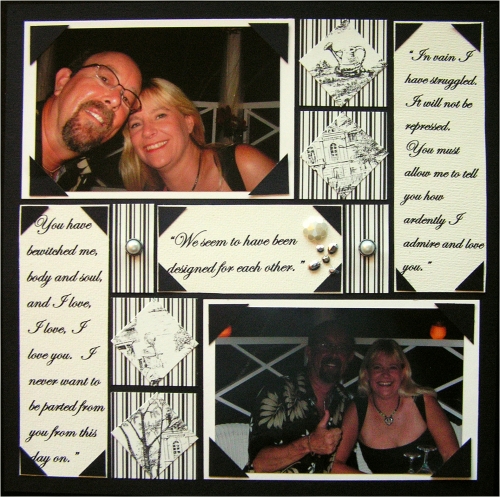 I mounted all of the photos on Ivory Paper Tiles, and then added black Corner Tiles. As I used Black grid paper, I didn't mount them all the way to the corners...that made them blend into the background too much. So, I placed them just a tad inside the edge. I used the photo corners on the quote boxes as well...I cut some of them in half to make them fit without covering the words!
Now to fill in the rest of the space! I had a pack of patterned paper from Recollections called "Elegance". I loved the old fashioned look of the paper, so used the "scene" print for the centers and the stripes for the backgrounds of the 2 x 2 squares.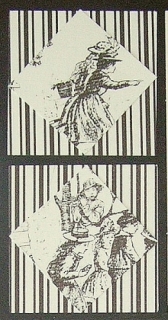 (NOTE: When cutting the centers -or pieces you are going to turn at an angle - out of paper with a definite top and bottom orientation , you need to cut the paper on an angle! I found that out the hard way....thank goodness for multiple sheets of the same pattern in the pack!) I mounted the pearl brads on the 1" x 2" strips to complete the design.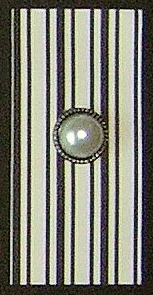 The brads are also from Recollections. As the finishing touch, I added Elegance Swirl Gems from K & Company,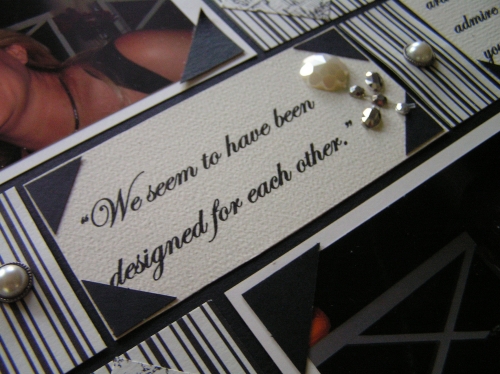 and then noted along the bottom edge where the quotes are from.
The ivory, the paper, the pearls, and the quotes from the book are all my nod to the wonderful romance of "Pride and Prejudice."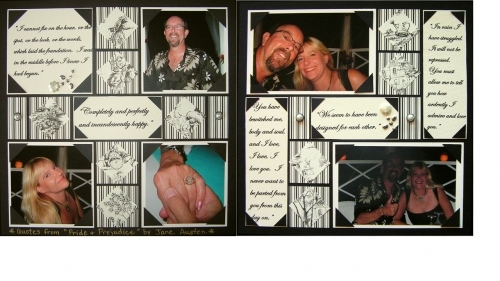 Shared by Lori Hanson on June 5, 2014 | Memory Date: June 4, 2014