Our literature inspiration for the month of April was Dr. Seuss' "The Lorax". If you've never read the story, you can click on the link above for a synopsis...check it out, it's a great book. As the book jacket says, "Long before "going green" was mainstream, Dr. Seuss's Lorax spoke for the trees and warned of the dangers of disrespecting the environment."
I had a variety of ideas for this project, from a "that was then, this is now" type of theme (as I scrapped a book for my niece's graduation!), to the yards and lanscaping around us (we've left ours more natural to attract the birds and critters!). But...
As many of you that have followed the MM Design Team know, I LOVE the zoo. I love animals, and take lots and lots of photos every time I go. Sadly, several of the animals at the zoo are on the endangered species list or a part of critical habitats. The MN Zoo is a part of the Association of Zoos and Aquariums, and the Species Survival Plan.
I included their mission statement as a part of my layout.

Ironically, the Zoo also hosted the Dinosaurs Alive exhibit last fall. So, I used photos from that exhibit...along with one of the rhymes...on page one,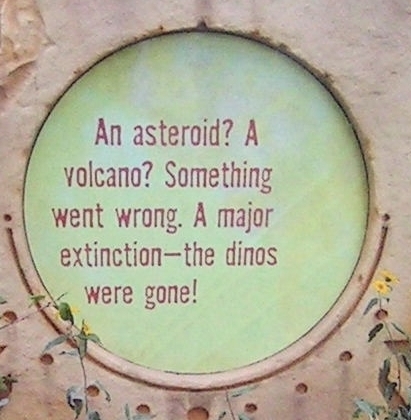 with photos of some of the animals/habitats on the list that the zoo hosts on page 2. I also included the list of the featured animals. So sad to note that, as of April 19th, there are 10,796 endangered species worldwide. The number changes daily, and more information can be found on the website.
I used emerald grid paper, symbolic of life. I used pink and yellow cardstock representing colors from the book, a font reminiscient of Dr. Seuss, and black paper tiles to mimic the black line Dr. Seuss is so known for. The title "UNLESS" was cut in white with black shadow for the first page,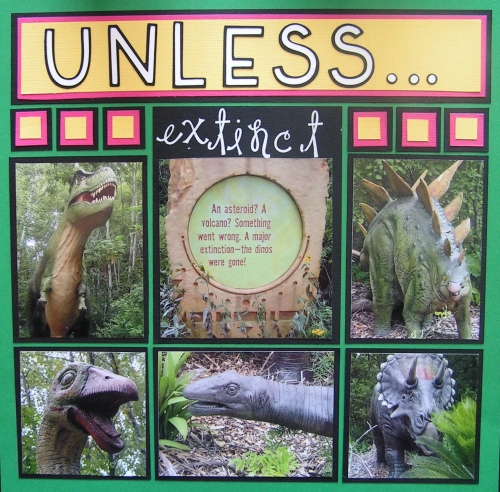 and the phrase continues onto the second page.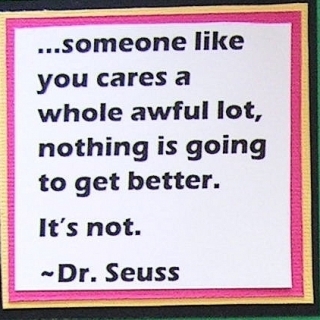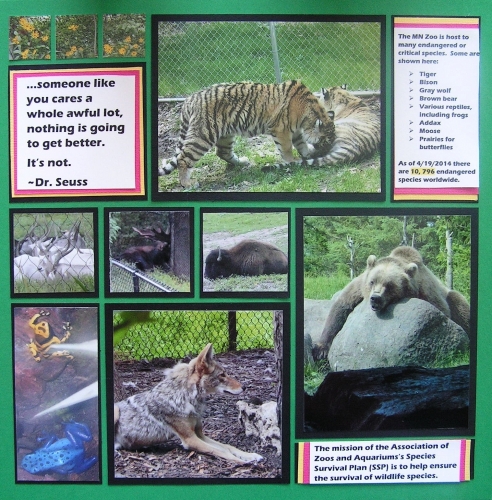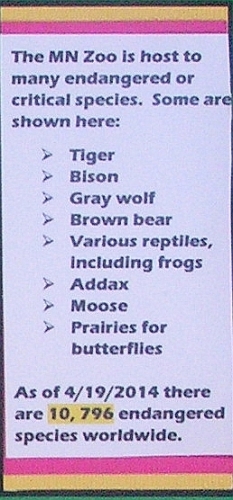 Here is the full 2-page layout: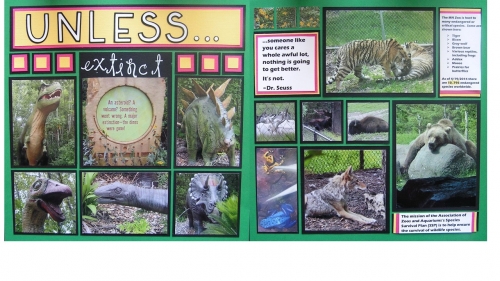 So...what can you do to help? Here are some suggestions from "my" zoo!
You can help wildlife and wild places around the world.
You want to make a difference but sometimes it's hard to know where to start. The challenges seem overwhelming and the animals in danger so far away.
But we are all connected globally and even small actions can help.
Click HERE for more details!
Shared by Lori Hanson on April 21, 2014 | Memory Date: April 21, 2014