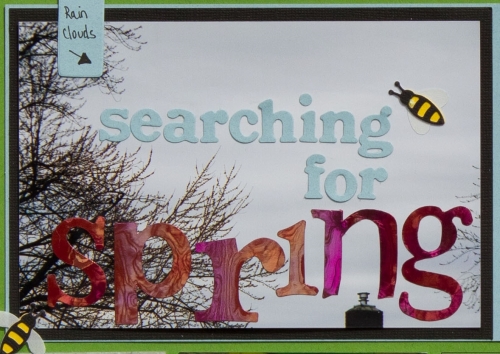 I have been searching for spring for quite a few months now. So, when we were given a spring scavenger hunt, I panicked. How was I supposed to get photos of birds and bees and flowers and trees when we were still covered under snow and ice?
Well, I put my creativity to use and improvised.
I decided to do a page, not just about the scavenger hunt, but also about the fact that spring is way late this year.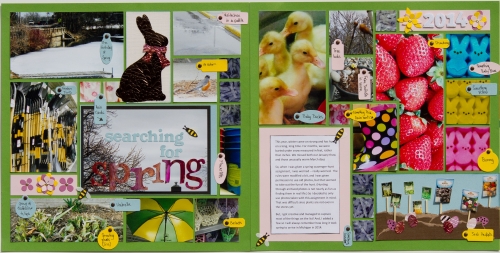 I started with a photo of the lake around me on the first day of spring and explained why this page would be a bit different, here.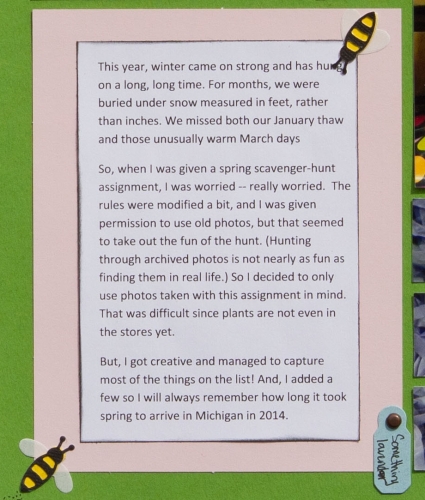 Then, I went shopping ... I went to several different stores to get all of the items I needed for the scavenger hunt ... well, at least the ones I could track down.
When I sat down to create the page, I opted for Spring Green Mosaic Moments Grid Paper -- to me there was no other choice. Not only did the name of the color fit, but the bright green provided a nice contrast against the snow and dreary skies.
To compliment the bright green, I used a soft pink and pale blue Mosaic Moments Page Tiles. I love using Page Tiles ... there is no cutting. You just punch out what you need and adhere it to the page. I love using them as photo mats and places for your eye to rest a bit around the page.
I also used some of them to cut out letters and tags so everything would match perfectly.
I used tiny tags to list the items in the photo ... whether they were on the list or not.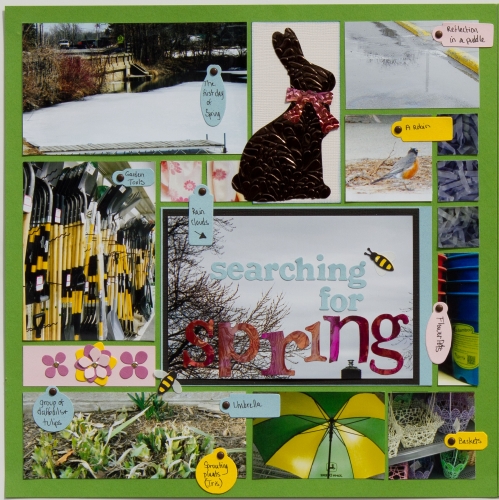 Since there was not a lot of color in the photos, I added lots of interest with spring die cuts ... including flowers with bling centers, tiny bees, Easter eggs and a chocolate bunny.
(The flower die, Shimmer Sheetz, bling, embossing folders and bee dies are all from Elizabeth Craft Designs. The large letter die, bunny die and tags die are from Tim Holtz and the egg die and small letters die are from QuicKutz.)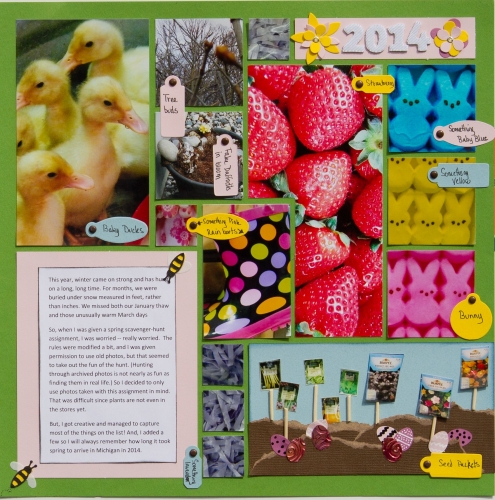 Because it does not feel like spring here, I focused on Easter items. Easter has always been my favorite candy holiday and it makes me smile, so I included photos of grass and Peeps.
I had the most fun creating the little garden of seed packets and Easter eggs ... here's a closer look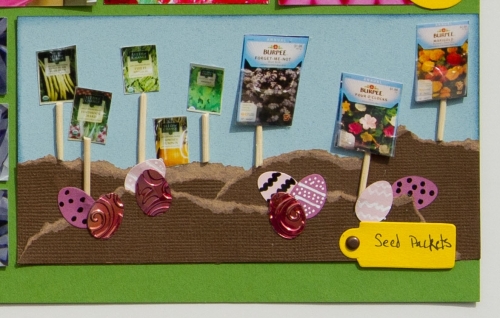 Although this page took much longer than most of my pages because of all of the intricate die cuts, I had a lot of fun making it.
And, a few weeks later, the lake is still frozen but all of the snow has finally melted off of the garden, so maybe I found spring after all!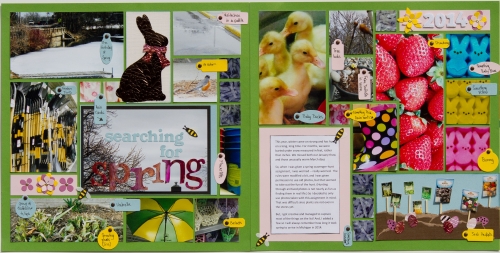 Shared by Candy Spiegel on April 7, 2014 | Memory Date: April 6, 2014