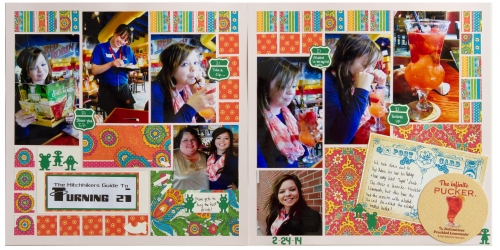 Our design team challenge was to create a page inspired by "The Hitchhikers Guide to the Galaxy."
Science fiction is not my thing so this challenge was difficult for me.
I finally opted to focus on the "hitchhiker" portion of the title and create a "guide" to turning 21 -- with the photos I took of my daughter on her 21st birthday.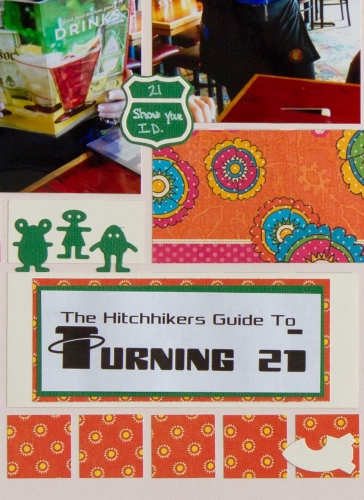 I started with Petal Pink Grid Paper. I knew I needed something soft to go with the wild colors in these photos and the crazy paper I chose. The paper is from Graphic 45 and I thought it was perfect since "The Hitchhikers Guide to the Galaxy" was released in the 70s and many hitchhikers lived a bit of a bohemian lifestyle. Besides, one of the prints had little suns and that is the closest thing to a galaxy I had in my stash.
I downloaded a few sci-fi fonts for the title.
I used a QuicKutz road sign die for the "guides," writing each of the little steps in them.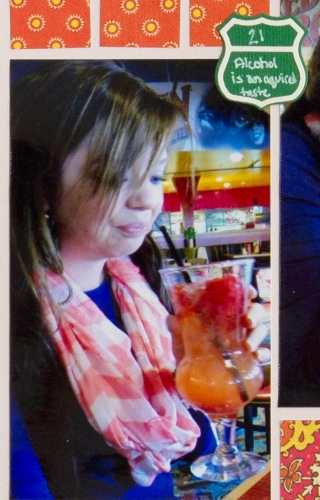 This was my favorite ... "alcohol is an acquired taste." My daughter was not totally thrilled with the bite of alcohol!
In keeping with the traveling theme, I used a post card for the journaling. I also swiped the coaster from the restaurant, since it featured the non-alcoholic version of the drink she chose (hers had alcohol added and was not bottomless).
I added a few green martians (also a QuicKutz die) and used a few Ivory Page Tiles, as well.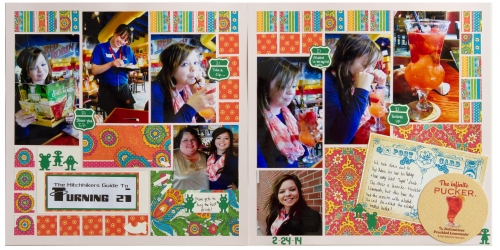 I hope you enjoyed this trip through the galaxy.
Shared by Candy Spiegel on March 20, 2014 | Memory Date: March 20, 2014