For our first February challange we were to take inspiration from the "Queen of Hearts". So my first thought was Alice in wonderland, which immediately took me to my second thought Johnny Depp! He was Great as the Mad Hatter, lets face it, he's great at anything, in my mind. So I decided to focus my two page spread on the "King of Hearts!"
Tasked with using string or thread, patterned paper and our new heart paper tiles I sat down at the laptop and collected my pictures! I used my search engine to find pictures of Johnny Depp in all of the movies he has been in. I narrowed it down to 15, from his first days in 21 Jump Street to his latest release The Lone Ranger.
I chose Raspberry Mosaic Moments Paper to start. For my title I printed it off my computer using the "for my lover" font. LOL. coloring in the hearts with copic marker.
I really didn't have a patterned paper I felt went with this layout so I decided to make my own. I have been dying to use this background stamp I got with French script and knowing Johnny spent many years living in France I thought it would be a perfect match. I stamped all over some white card stock and used my 2 1/8" punch to make frames for the smaller pictures and my 1" punch for the small squares, with the white Heart Paper Tiles I stamped over the large and small hearts before placing them on the page.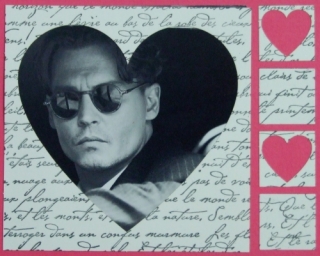 For the string element, I dug out some of my bakers twine and decided that I would use the inside of the small heart frames and running the heart thru my xyron, I just wrapped the twine around and around to cover the hearts.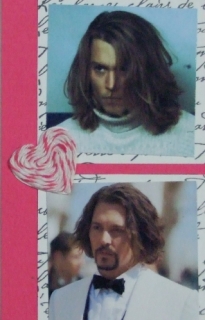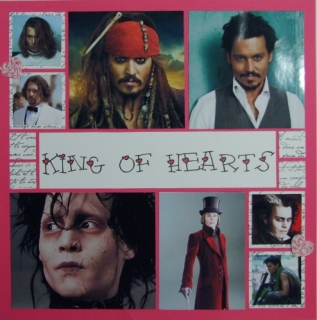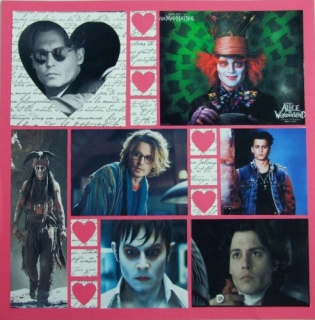 I hope you enjoy the layout. I had a GREAT time putting it together. Thanks for stopping by!
Melissa
Shared by Melissa Fulgham on February 7, 2014 | Memory Date: February 7, 2014