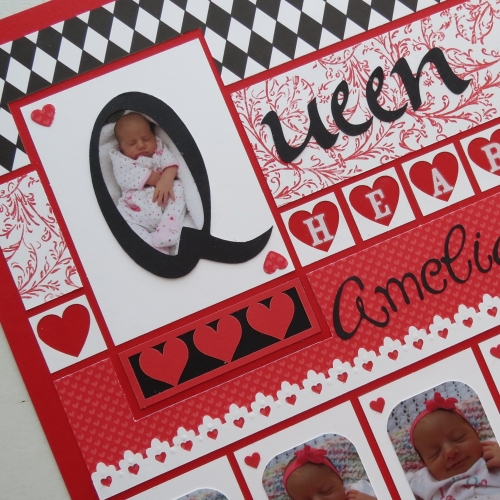 Welcome to the February Challenge: Become the Queen of Hearts.
This time we were to create a layout using…hearts! Perfect for Valentine's memories, Love themes or as I did, photos of someone who has totally captured the hearts of all around her…let me introduce you to the newest member of our family…Queen of Hearts…Amelia Jane.
My darling granddaughter arrived after a week of the Polar Vortex that took out the plumbing at her parent's apartment that left them without water, shower and toilet for a week. Joy.
Being breech and unwilling to turn to arrive properly, a C-Section was planned, but she arrived two weeks early! Joy.
Once home, she was doing wonderfully, but her momma, my stubborn youngest daughter, over did things and tore stitches deep within her and was bleeding internally, landing her back in the hospital, re-opened, drained, and four blood transfusions!!! More Joy!
Yes, life has been crazy lately!! Amelia has, however, managed to win the hearts of everyone!!! This layout shows just a few of the arms that have held her and fallen head over heels for this little bundle of joy! Her cousin Izzy, has embraced her as "my sister" (she's getting a new brother come May!) These are some of my blessings! All Joy!
Now on to the details for the layout!!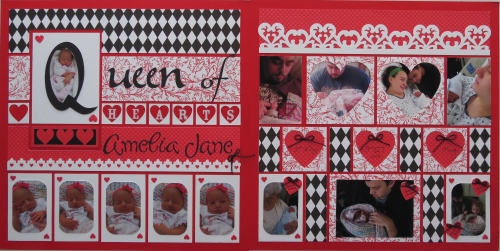 Beginning with:
· 2-12"x 12" Scarlet Mosaic Moments Grid Paper
· White Heart Frames on Orchid
· Pattern Paper: Black & White Diamonds by Canvas Corp.
· Hugs & kisses (3182) Doodlebug Design from the Sweet Cakes Collection
· Black Bamboo Cord
· Frank Alphabet Mini-Marks Rub-Ons from American Crafts
· Stampin' Up Filigree background stamp
· Tim Holtz Distress Ink: barn door
· Corner punch rounder
· Heart punch
· Martha Stewart Deep Border heart punch
· Martha Stewart small border punch
· Cricut cartridge Lyrical letters: Loop Dee Loo font for Amelia Jane
· Cricut cartridge Jasmine font for "Queen"
· White Mosaic Moments Paper Tiles
· 3 Heart Strip tile-red on white (I substituted black instead on the page)
We were to incorporate string or thread, patterned paper, and our NEW Heart Frames!
How I used the required Challenge elements:
1. White Heart Frames were stamped with the Red Barn Distress Ink using the Filigree background stamp. I wanted to incorporate a pattern somewhere that might reflect the design on the back of a playing card. I repeated the pattern on other areas as a photo mat and a background for a portion of the title. The three smaller heart frames were used to give the vital stats of her birth. The smallest 1" heart frames were mounted directly to the scarlet grid and I used rub-on letters to finish my title, but I left these white for the contrast.
2. Patterned paper: I had planned to use the Doodlebug red heart paper alone, but came across the Black & White Diamond paper when in the store the other day and it just screamed to me saying "Queen of Hearts." So using it to frame my title and call attention to it. The Doodlebug Design paper was used on page 1 for the backdrop of the Amelia Jane portion of the title, behind the smaller heart frames on page 2 and behind the top section as a backdrop for the heart border.
3. String: I used a fine Bamboo Cord for the tiny bows added to the hearts and at the end of the Title.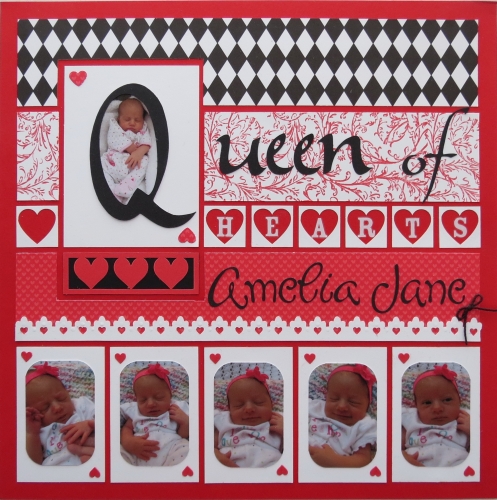 Extra Features:
I wanted to incorporate a couple of things in this layout that we have used before in our team challenges one was the "series of photos" from last summer. The other was an oversized title from the previous year.
This time the series of photos appear along the bottom edge of page one. They are matted as playing cards with the photo rounded and cropped to fill the centers and punched hearts placed in the corners.
The over-sized title was created with the Cricut. I used a larger letter Jasmine "Q" as a frame the remaining title sections were added using the small heart frames, and patterned paper strip for "Amelia Jane" in Loop Dee Loo Cricut font. All in all the title area takes up 7 of 10 rows of grid squares.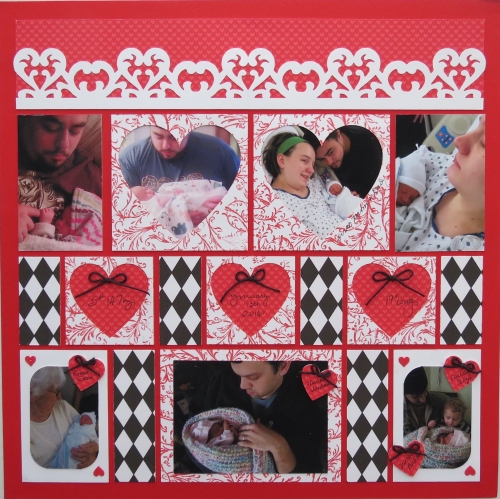 Thanks so much for stopping by for a look and maybe some inspiration for your own Love Story and make the most of the heart frames, you'll love them! Now on Sale February 4th through the 9th, 2014.
Stay warm...and get scrapping!!
andrea
Shared by Andrea Fisher on February 7, 2014 | Memory Date: February 6, 2014