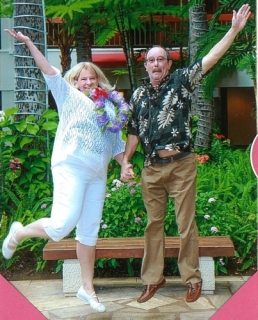 For the first project of February, the theme was "Hearts". We were to make a page using heats, and all of the element options:
string or thread

patterned paper

New Heart Paper Tiles - add your own twist to these.
Normally I do a two-page spread, and I actually started the second page (I'll post that later!), but for those who don't know me, I work for H&R Block PLUS my regular 40 hour/week job during tax season....need I say more??!! :)
My hubby and I just took a trip to Hawaii in January (pre-tax season relaxation!). We got a free 8x10 photo from the hotel...which meant booking a photo shoot! Turned out we loved many of the pictures, bought the disc and rights to reproduce the photos, and I was excited to get to use some of them for this "Hearts" theme! (Yes, obviously I didn't take these photos as I'm IN THEM!)
Here is the completed layout: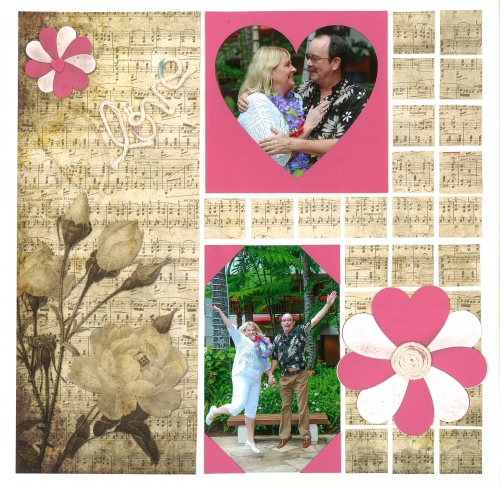 I found a great piece of patterned paper in my stash! It's from DCWV "The Timeless Type Stack", and goes great with the IVORY grid paper. It is embossed and has flowers and music....the perfect tone for hearts and romance (and I loved the paper!). I cut off the left side to fit the first 4 inches of the page. After I placed my two photos, I filled in the rest with the corresponding parts of the page...mostly the music.
I used one of the new heart tiles (available at snapncrop.com) in deep pink to frame one of the photos. I also used deep pink corner tiles to frame the other photo.
As for the adding my own twist to the heart tiles...I used the "insides" of the tiles to make flowers! Here are some photos of the steps (sorry the color isn't great in these):


place second heart on top of the 1/2 you've glued on the first heart

continue to layer these until you have a complete "flower"


When they were done, I used "Sugar 'n Cream" thread from Lily Cotton to make a center for the large flower. This thread has some pink and blue scattered throughout!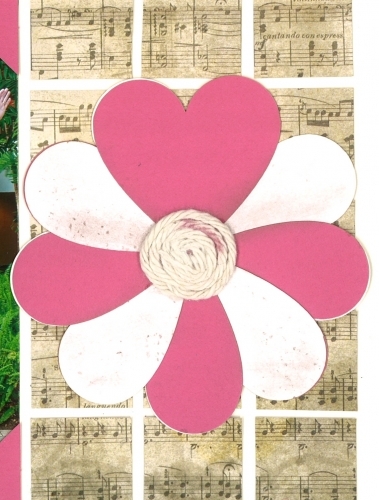 I also used that thread to write the word "love" on the left side (wrote in glue and then put on the thread). I used a little heart brad from Recollections in the middle of the small heart, and put that in the upper left hand corner.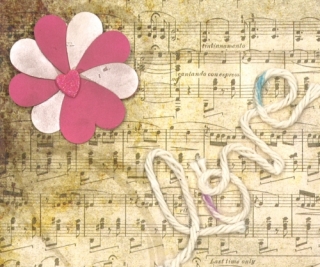 Ilike the way it all came together, and my hubby liked it too! Happy Valentine's Day! Hugs!
Shared by Lori Hanson on February 6, 2014 | Memory Date: February 5, 2014