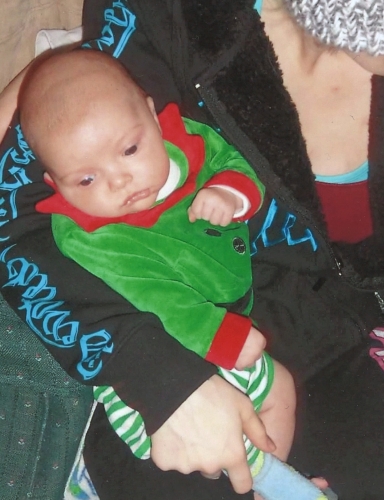 For the MMDT second project, we were to take inspiration from Hans Christian Andersen's "The Snow Queen". I had several ideas, from depicting gloomy winter reflected with wonderful spring, to snow shots...but as I've been away in Hawaii for over 2 weeks, I really didn't have good snow photos...and I didn't take the time to look for spring photos to correspond with my winter ones I did have. But, then it hit me! Much of the story passes through seasons, and there is much transformation from gloom and darkness to reunion, light, etc. I thought of the hope that Gerda kept, the "newness" of the repaired world, and the love through it all...and it reminded me that I took some photos of my new great-nephew (2 months old!) at Christmas. That whole "new life" train of thought. In addition, this little one's family has been through some real struggles over the last couple of years, and he is such a blessing! So, unlike most of the rest, my inspiration wasn't really the snow (and I hate winter anyway!), but the clean, pure newness of life, and the hope and love within!
As for the layout itself: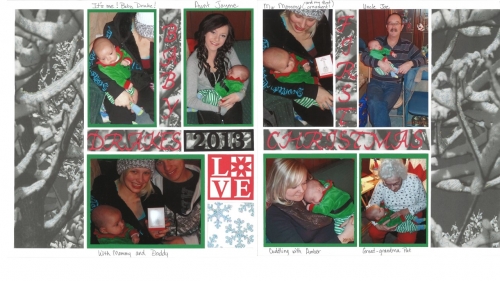 I used plain white grid paper...wanted to keep it "clean". I did use some patterned paper with snow (from DCWV "The Photo Real Stack 3), just to keep the winter/snow element. I added some Diamond Stickles to give it some glitter.

I mounted the 2013 cornerstone over the same snow paper

and also filled in the middle squares and put my title over it. The LOVE cornerstone is also from Mosaic Moments, and I added a drop of Stickles to the center of the "O" as well.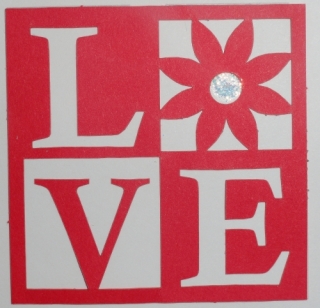 I cut the title from red paper tiles using my Cricut "Stone Script" font, and mounted a few of the photos with green paper tiles. The snowflakes are from Mrs. Grossman's, mounted on a white paper tile. I just put them on the tile and trimmed around the edges!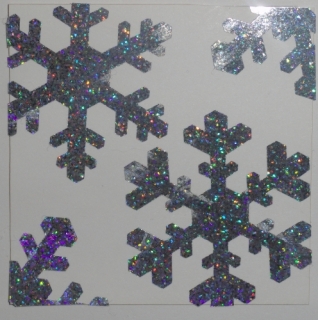 Here is page 1: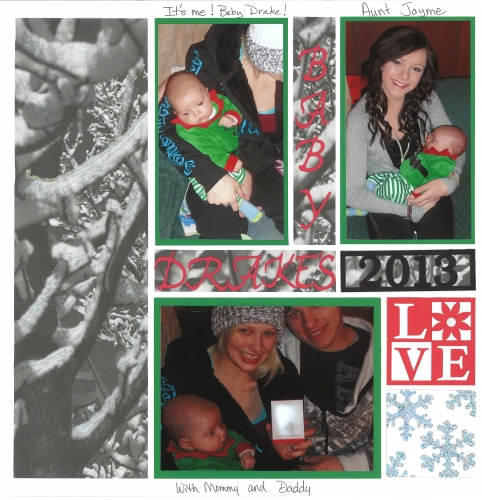 And page 2: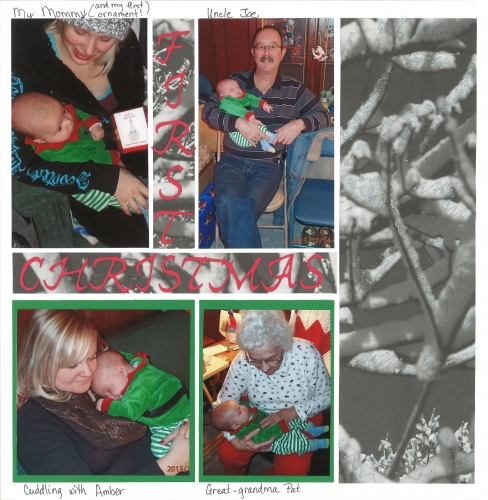 Stay warm all! Hugs!
Shared by Lori Hanson on January 26, 2014 | Memory Date: January 26, 2014