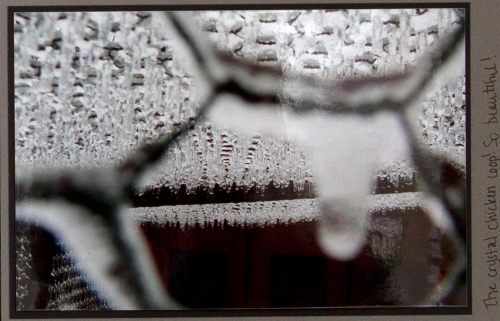 Our challenge this time was to create a page inspired by the book, "The Snow Queen."
I thought it was the perfect invitation to showcase our December ice storm.
Like a fairy tale, the storm created both beauty and darkness -- literally.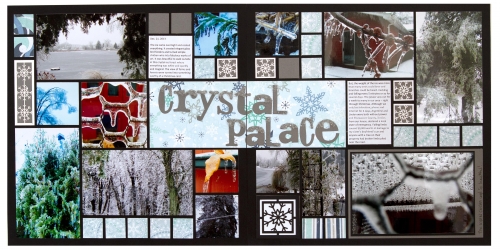 Here's my journaling ...
Dec. 21, 2013
The ice came overnight and coated everything. It created elegant glass bird feeders and turned simple chicken wire into fabulous works of art. It was beautiful to walk outside in this crystal ice forest where everything was white and sparkly and magical. The view of farms and forests were turned into something worthy of a Christmas card.
But, the weight of the ice was more than many trees could bear and branches could be heard crackling and falling every 5 minutes or so for several days. The power was out for a week to many in our area – right through Christmas. Although we only lost television, phone and Internet for 4 days, Argentine and Linden were both without power and Shiawassee County, 3 miles from our house, declared a local state of emergency. Falling limbs caused $3,000 worth of damage to my sister's boyfriend's car and anyone with a tree on their property had broken limbs piled near the road.
I chose black grid paper to highlight my photos. Here's a closer look at the left side of my page ... all of the patterned papers are from a collection by Echo Park.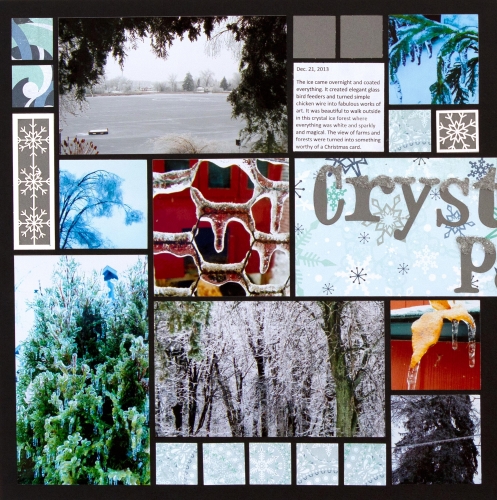 I added Cornerstones, too. I swapped out the background tiles they came with with Pewter Tiles to match the paper. The title is also cut from Pewter Tiles using a Tim Holtz die. I added Art Glitter Krystallos Vintage Glass Shards to the tops of the letter to showcase the ice.
Here's the right side ...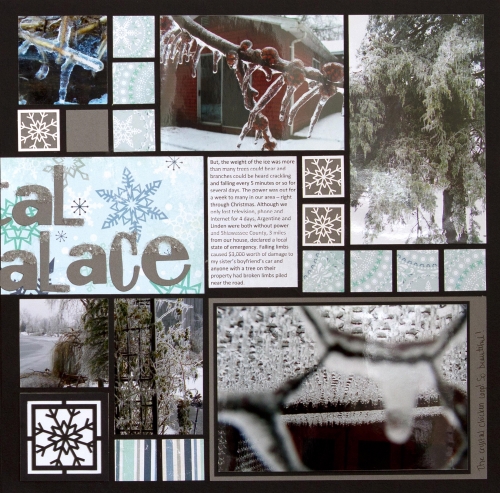 The ice certainly made for some fascinating photos! I went out three separate times in the days that followed to take photos and soak up the atmosphere.
I hope you enjoyed my trip to the Snow Queen's palace in Argentine Township, Michigan!
Shared by Candy Spiegel on January 19, 2014 | Memory Date: January 19, 2014