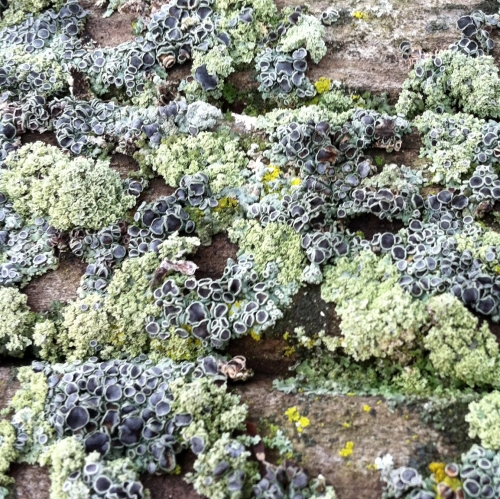 POST WINDOW: November 1st - 7th.
Theme: The Scavenger Hunt
You will go on a Scavenger Hunt to document the things of fall. Capture the colors and textures of the season. You will have a check list to follow, a time frame to work in and a prize to go after, just like a real scavenger hunt!
Welcome to my layout for the Captain's Challenge!
One of the rules of the game was to include some close up, detailed shots. I enjoyed taking these the most since I thought it would be fun to see if I could stump folks with some of my photos!
Take a close look at the photos on pages 1 and 2 below and see if you can identify the objects in the macro shots!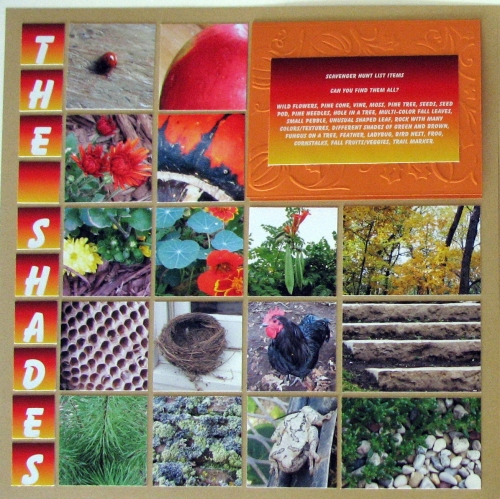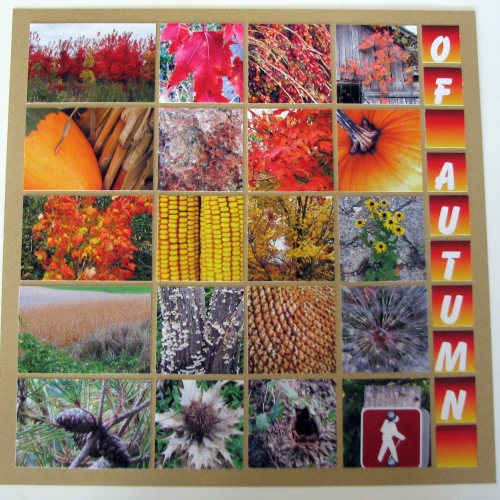 Here is my 2 page layout, entitled The Shades of Autumn: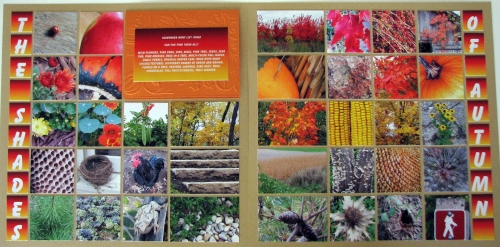 I chose Ginger Grid Paper www.snapncrop.com because I wanted the beautiful fall colors to pop off the page, but I wanted something that felt more fallish than white. I made my own letter tiles for the title by creating 1" text boxes and filling with a gradient. I added the letters, printed and cut! I used the same technique for the journaling blocks for uniformity. I didn't use any particular page pattern, I just envisioned this layout as I took my photos. I had a lot of pictures I wanted to use and a lot of story to tell, so I made a flip card so that I could journal as much as I wanted. The card itself is a piece of Pumpkin Pie cardstock from Stampin' Up!, which I then embossed with my Cuttlebug using a pumpkin embossing folder.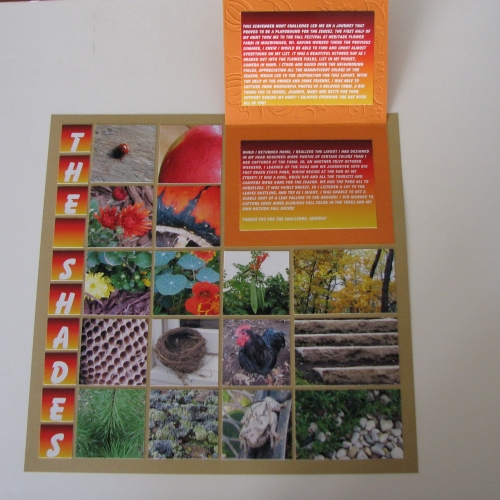 This is what the journaling says:
On the front:
Scavenger hunt list items
Can you find them all?
Wildflowers, pinecone, vine, moss, pine tree, seeds, seed pod, pine needles, hole in a tree, multi-color fall leaves, small pebble, unusual shaped leaf, rock with many colors/textures, different shades of green and brown, fungus on a tree, feather, ladybug, bird nest, frog, cornstalks, fall fruits/veggies, trail marker.
On the inside:
This scavenger hunt challenge led me on a journey that proved to be a playground for the senses. The first half of my hunt took me to the fall festival at Heritage Flower Farm in Mukwonago, WI. Having worked there the previous year, I knew I would be able to find and shoot almost everything on my list. It was a beautiful October day as I headed out into the flower fields, list in my pocket, camera in hand. I stood and gazed over the neighboring fields, appreciating all the magnificent colors of the season, which led to the inspiration for this layout. With the help of the owner and some friends, I was able to capture some wonderful photos of a beloved farm. A big thank you to Sherri, Jeannie, Mary and Betty for your support during my hunt! I enjoyed spending the day with all of you!
When I returned home, I realized the layout I had designed in my head required more photos of certain colors than I had captured at the farm. So, on another crisp October weekend, I leashed up the dogs and we journeyed into Big Foot Beach State Park, which begins at the end of my street! It was a cool, brisk day and all the tourists and campers were gone for the season. We had the park all to ourselves. It was fairly breezy, so I listened a lot to the leaves rustling, and try as I might, I was unable to get a usable shot of a leaf falling to the ground! I did manage to capture some more glorious fall color in the trees and my own outside fall décor!
Here are the photographs. Most of them are self-explanatory from the scavenger list, but in cases where they aren't, I've identified them in parentheses.
Row 1: Ladybug, apple (fall fruit), red trees, red fall leaves, broom corn seeds, vine (Virginia Creeper)
Row 2: Orange garden mum, turban squash (fall veggie), gourd, corn stalks, rock with many colors/textures, orange fall leaves, pumpkin.
Row 3: Yellow garden mum, nasturtium (unusual shaped leaf), Trumpet Vine seed pods, yellow leaves, fiery red and yellow leaves, corn, more yellow leaves, black-eyed Susan growing through a crack in the pavement (wildflowers).
Row 4: Honeycomb, bird nest, Big Bird the rooster (feather), steps in rock garden, field (different shades of green and brown), fungus on a tree, sunflower seeds in sunflower, dandelion seeds.
Row 5: Pine tree, moss on a birdfeeder, frog in greenhouse, small pebbles in rock garden with sedum, pinecone and pine needles (I love how the pinecones are out of focus and the needles are clear!), Miss Wilmot's Ghost-Eryngium giganteum (unusual shaped leaf), hole in a tree, trail marker.
Thanks for the challenge, Andrea! I enjoyed the Fall experience!
Shared by Heather Cartland on November 1, 2013 | Memory Date: October 29, 2013