Challenge #16

-

Photo Challenge - Inspired by… Texture
POST WINDOW: August 15 - 21st.
Choose an enjoyable location that you frequently visit or that you have always wanted to go to but just haven't taken the time. (The location should have a lot of interest to you - either nature or man made. It could be a park, a historic area, a botanical garden, a nature trail…) Spend a couple of hours (or more) taking pictures of details. Capture the textures.
Pay attention to the lighting – showing off texture requires attention to how the light is reflecting off of the subject and creating shadows. Changing your view point / direction might make a big difference in the final result.
On your page(s) include: some distant shots (so we can see the overall location) and lots of detail shots that show off the textures.
In your Journella Post you should include the location and why you chose the location.
Hi Everyone!! Here is my texture challenge! I hope you like it! As you know, I spent my birthday at the Milwaukee County Zoo, where I photographed an earlier challenge with the giraffes. Keeping this challenge in mind, I began stalking the peacocks that wander free throughout the park. I figured they would be the one subject I could photograph throughout the day, with different lighting over a long period of time. I took photos of them in the morning and in the afternoon...in clouds and in sunlight...with their tails open and with their tails closed. I zoomed in on their tail feathers, which seemed to have a lot of great texture, but when I got home and loaded my photos on my computer....disappointment reigned. The photos were good, but they bored me. I started going through the rest of the photos of the day and came across the ones I took of the Grand Cayman Blue Iguana.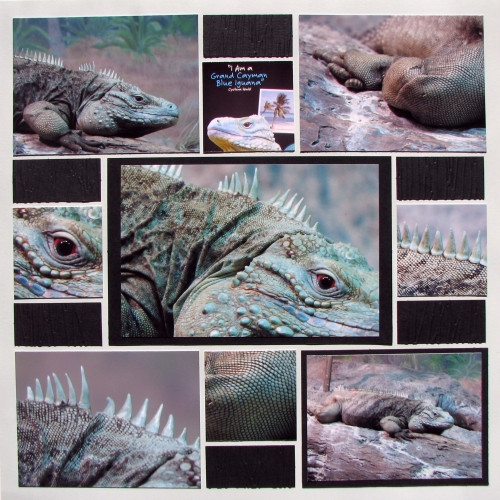 This guy had it all...bumbs, spikes, scales, wrinkles and more! Thankfully, I must have known he might be a backup plan and took several photos of him, some closeup and some farther away. Look how his foot looks like it's made from stuffed vinyl! Scales on his legs, bumps on his face, spikes down his back, skin that looks like wrinkled leather...nothing I could do about the variation in lighting since he was in the reptile house behind glass, but I think he was a perfect candidate for this challenge otherwise.
I used Lotus Grid Paper and Black PaperTiles from www.tamipotter.com to bring out his beautiful colors. It's hard to see the Lotus color, it looks white in my photo, but it is a very pale bluish-green. He seemed happy with my choice. I used page pattern #80: Three Rows with a Central Focal Point, and after I put the page together with all the PaperTiles, something was missing...more texture!! So I whipped out my Cuttlebug and my Bamboo embossing folder and put some jungle texture on the PaperTiles, not the matted pieces because they were already glued down.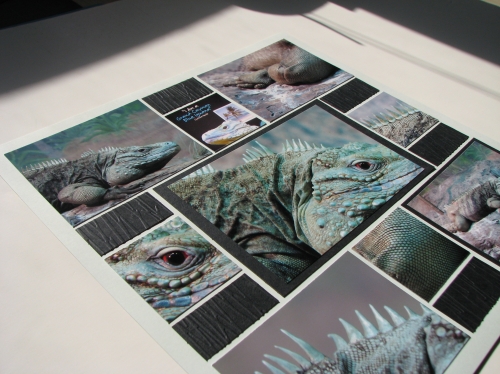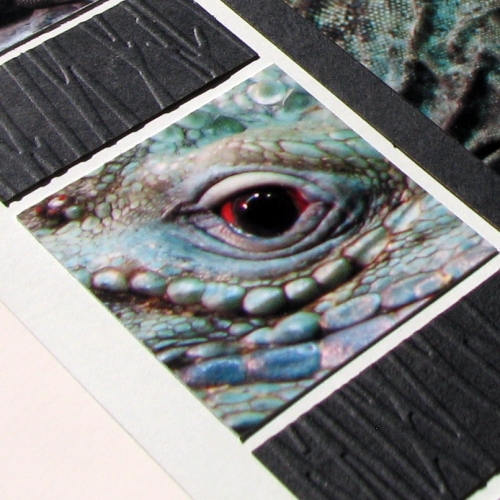 I was very happy with the results and I hope you are too!
Shared by Heather Cartland on August 17, 2013 | Memory Date: August 17, 2013