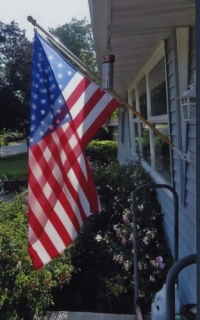 For this project, we were to chose a subject and photograph a series of images based on that subject. I had many thoughts on this, and in fact started taking photos for this project way back in May. However, after looking at the photo series examples, I was rethinking my "series". Then, on June 30th, my mom, my hubby and I went to a Twins (MN!) baseball game, and I embarked on an entirely new photo journey! That day was Armed Forces Appreciation Day. And when they unfurled (is that the correct word?!) the flag, it hit me. There was my series! The flag and what it symbolizes has always been very emotion evoking to me. I tear up at parades, at the singing of the Star Spangled Banner, etc...you get the idea. And, as the 4th of July was just a few days away, I figured I could get a few more flag photos to finish the project.
My poor hubby had to slow down on the highway for about a dozen flag photos (including the iconic Perkins flag!),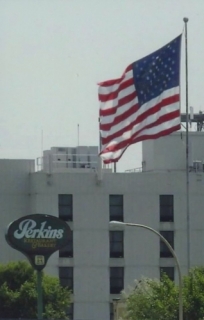 and stop along the way to our friends when I spotted flags on the ground,
around a mailbox, and other spots! I got a bunch during the boat parade at our friend's lake home, took more on a boat trip around the lake,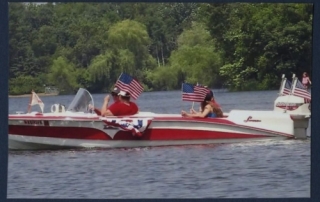 and a few in my neighborhood.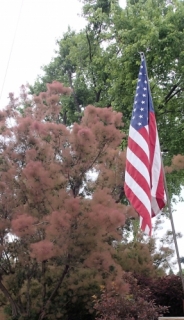 The following weekend when we headed up to northern Wisconsin to visit Joe's mom, I made him stop by the cemetery because I "just knew" there would be a good photo to be had there, too!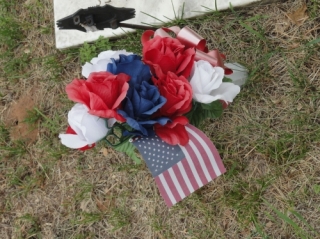 All in all, I ended up with about 70 photos, plus the ones from the game!!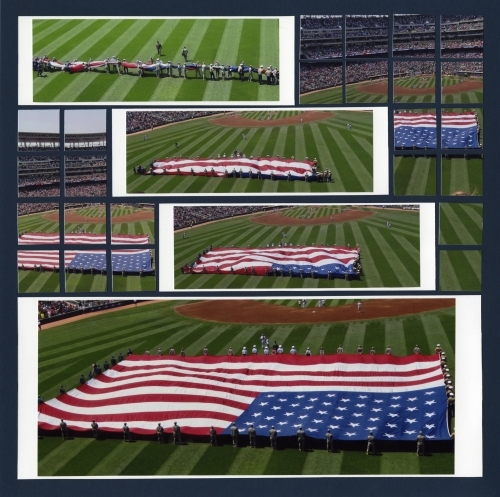 For page 1, I just used the photos from the game. I took various shots as the flag was brought out. Then I filled in with photos of the flag unrolled on the field with the stadium crowd in the background. I really ended up loving this page...it's one of my favorites to date!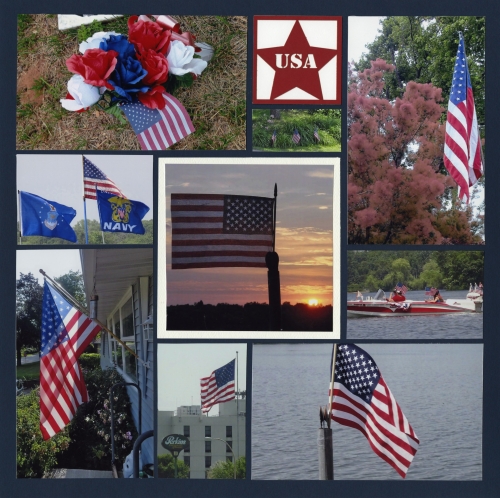 For page 2, I used the pinwheel pattern (with a slight variation where the star cornerstone is!). That page pattern is #12. I just chose a variety of photos that I liked the best, with my favorite, the flag at sunset, being the centerpiece.
I used Navy grid paper, and white background paper...just kept it simple and let the pictures speak for themselves.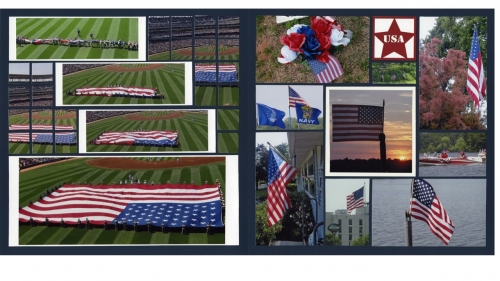 Hope you all had a wonderful 4th of July, and as the song says (of course, another one that gets me choked up!) "God Bless the USA"!
Hugs!
Shared by Lori Hanson on July 16, 2013 | Memory Date: July 15, 2013