Challenge #11 – June Feature Grid - Raspberry
POST WINDOW: JUNE 1st – 7th
Use Mosaic Moments Raspberry Grid paper and Page Pattern

#

64
THEME: Things that make me Smile
Create a page that shows us things that make you smile.
Element options - please choose one or more of the following:
Anyone who knows me, knows two things make me smile…ever and always: animals and my birthday. I love being queen for a day, no matter how old I get. And to stop the aging process, every year, I visit the Milwaukee County Zoo on my birthday, May 11th! This year I got an extra special treat…I finally made it in time to feed the giraffes! For a small fee, at 10:30 am and 3:00 pm, you can go up on the special feeding deck with the zookeepers and feed the giraffes Ry-Krisp crackers and Romaine lettuce! So fun!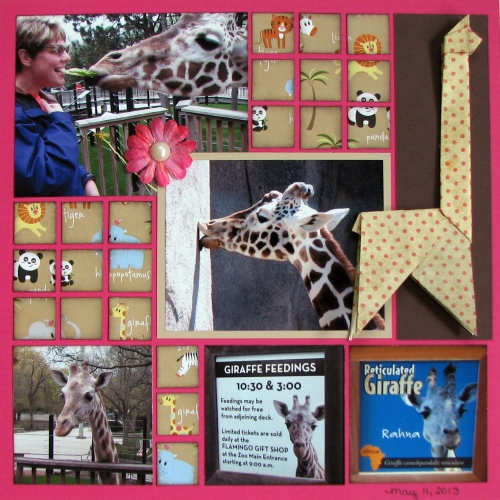 As you can see from the photo above, giraffes have incredibly long tongues…21 inches!! They don't have teeth in the front, so they stretch out those enormous tongues to get the food from you. The zookeeper said if I was brave enough, I could put the lettuce in my mouth, and Bahatika, the little boy giraffe, would take it ever so gently. Thankfully, my roommate was able to catch the moment on camera for me!
And how perfect was this challenge that my favorite color (along with orange) is PINK!! I knew I had some really fun Imaginisce paper from the Wild Things collection that was peppered with some hot pink throughout and it's absolutely adorable! I had some coordinating fabric flowers to go along with it.

The photos are pretty self-explanatory. There were 2 giraffes, Bahatika and Rahna, the older, more mild-mannered female giraffe in the bottom left photo. The picture in the center is Bahatika…licking the…er…wall. Why include this photo as the focal point for things that make me smile? Just as I took this photo, my roommate was behind me quoting Willy Wonka, "The snozberries taste like snozberries!" I'm surprised the picture isn't blurry I was laughing so hard!
In accordance with this challenge, we were to include clay, ink or origami as a design element. I chose to ink the edges of all my photos and patterned paper tiles with StazOn brown like I usually do for that more finished effect that I like. Clay? Origami? I thought Tami had lost her mind. So I went to YouTube to see about making an origami giraffe, and lo and behold there were several tutorials! My roommate and I grabbed some paper and started to sculpt!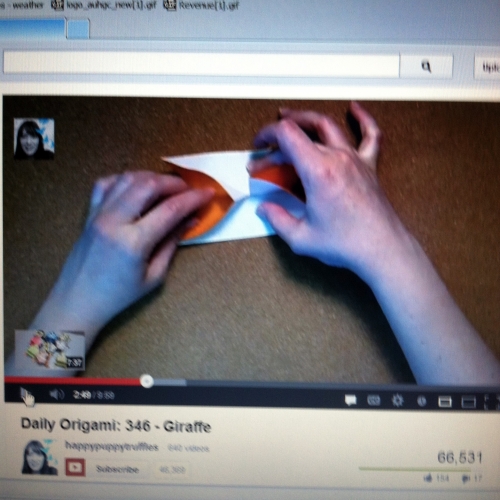 Here's the YouTube video we watched…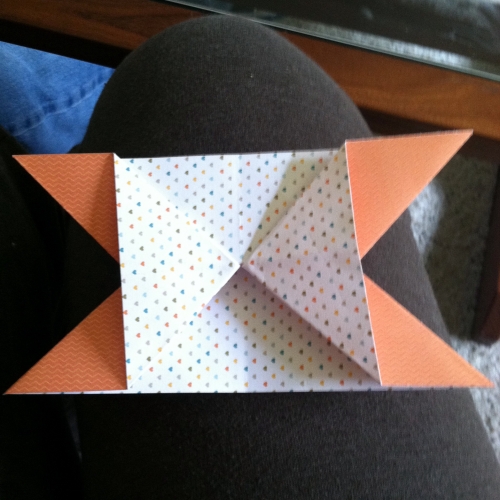 So far, so good…see the legs?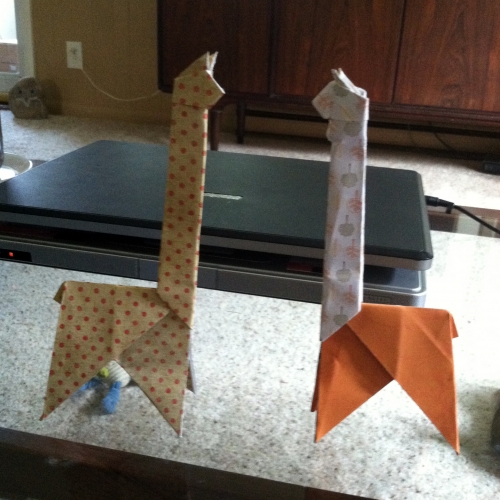 Step by step, we followed the 9-minute tutorial and this is what we ended up with!! Aren't they cute? My spotted one, of course, made it onto my scrapbook page and the other stands on my roommate's nightstand in a place of honor! It was really fun! Thanks for the challenge, Tami!
Shared by Heather Cartland on June 2, 2013 | Memory Date: May 27, 2013