It's so good to be back! Thank you everyone who wished me well and to those who sent me cards - each one brightened my day and there were some very low days in the beginning! Things are looking up now - I'm back at work and my health is improving. I've lost about 50 pounds - 100 if you count the fluid increase I had after the second surgery!
The challenge this time was to use periwinkle grid paper, page pattern #58, use string, CornerStones or doodles, and to create a page that expresses what I want myself and others to remember about me in this phase of my life. I've called it "Life in Limbo" because so much is in a holding pattern right now with a short time frame.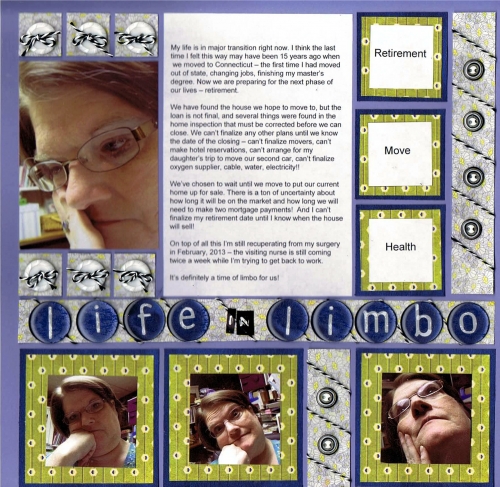 Everything is behind schedule - when I went in for surgery, the plan was to only be in the hospital for 2-3 days and out of work for 2-3 weeks. I never imagined that I would be in the hospital and then a nursing home for 2 months! My original plan was to retire June 1. We were going to make our trip to Virginia to look for a home shortly after my surgery, as soon as I was able. Tony had to end up going on his own and we would look at pictures and make decisions at night over the phone. There is not enough time for us to get our house sold by June 1, so I am going to have to extend my retirement date.
We did decide on a home in Suffolk, Virginia. We're finalizing the loan papers, and we had the inspection last week. There are a few things that need to be corrected before we can close, so our close date is tentative. We can't hire the movers or make any final plans until we know when closing will be! We've decided to wait until after we move out to put our current home on the market, so we can't do that either. And I can't plan my retirement date until we know when our house is going on the market. Everything is in limbo!!!
I used one of the 6x6 pads available from Snap n Crop for my patterned paper - the PB&J papers from Basic Grey. The buttons are from Paper Wishes and I tied little bows in some of the buttons with bakers twine from Doodlebug Design. My title was made with rub-on letters on cardstock placed in the round Shape Studio from Epiphany Crafts.
Below is the journaling enlarged so you can read it easier: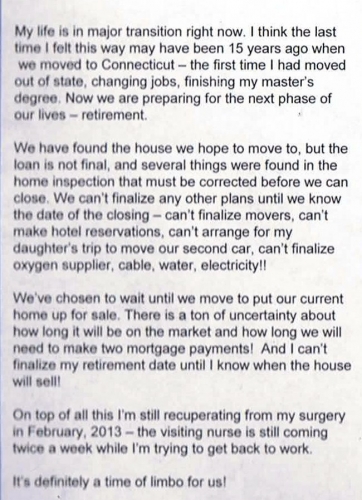 Shared by Nancy Sanders on May 5, 2013 | Memory Date: May 5, 2013