The second challenge for this month was to create a layout inspired by an artist or a style of art. This challenge was especially difficult for me because I have such eclectic taste in art.
What I finally decided to do for this challenge was to create a layout featuring me and several of my friends showcasing paintings that we created ourselves. It is apparent that I love many different kinds of art because in just the 4 painting sessions I attended, I created an abstract painting, an expressionism painting, a realistic painting of a sunset (realism) as well as a whimsical style tree.
Here is a collage of my paintings: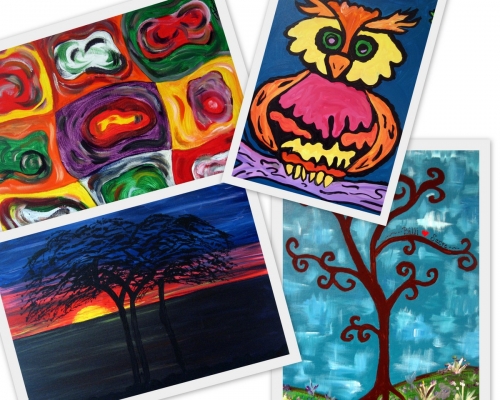 If I had to choose my favorite style, it would probably be a whimsical style. This style of art is playful, childlike and carefree. Here is a painting called Bird Paintings Whimsical Tree by N. Janow that I love.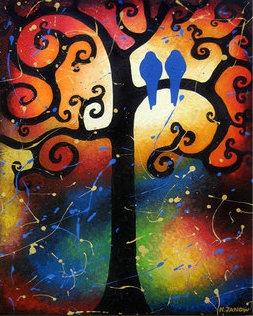 This is probably my favorite style because of my young kiddos. The style is just so playful and fun!!!
Here is the first page of the layout I created:
And my second page: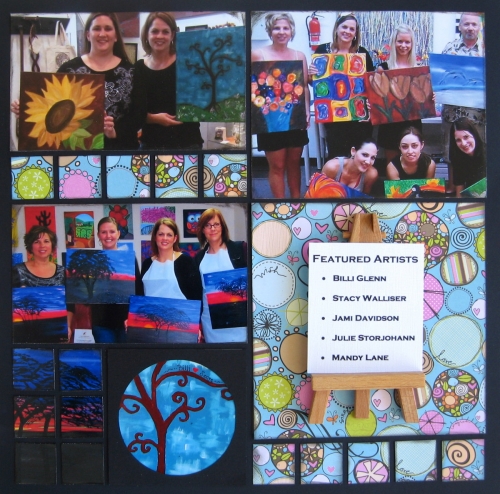 My paintings are mixed with the photos of my friends and me at 2 different art studios. At the first studio, Sundust Gallery, each person chooses what to create and then creates their own painting. 3 of my paintings were done at this studio. The landscape painting of the sunset was done at a different type of studio, called Party with Paint, where a teacher leads the students through each step of the painting process. I must admit, both were great!!!
I was really quite unhappy with this layout because it seemed too busy and I couldn't seem to make it work as well as I would have liked. However, I am glad I did the layout, and I have great memories of my friends Stacy, Julie, Jami, Mandy and Nancy. Thanks Ladies!!!
Here is a final look at the layout: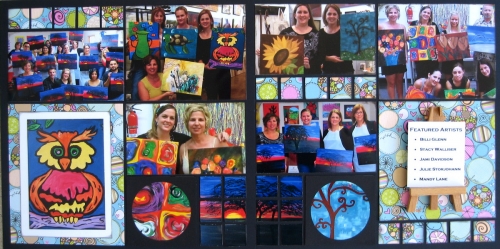 Thanks for stopping by!!!
Shared by Billi Glenn on March 18, 2013 | Memory Date: March 18, 2013