The first challenge for March 2013 (#5) is to use MM Bamboo Grid paper with Page Pattern #52. Part of the design was to chose from Tags, Large Title and/or patterned paper. My pages are both done with photos of my sons when they were very young. My title for the this project is Brothers 1988.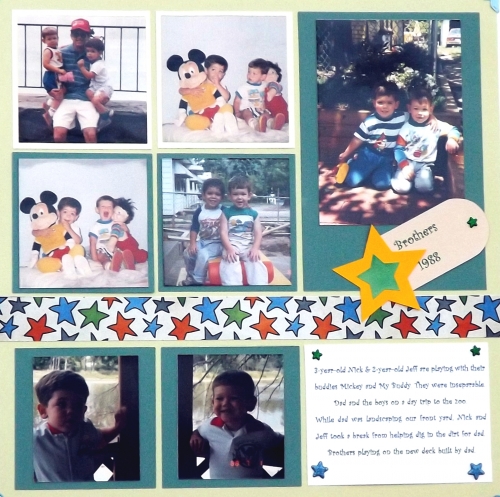 The photos are mounted on green card stock that compliments the Bamboo Grid Paper. I also used Ivory card stock. Nick and Jeff were Three and Two years old. My precious toddlers! The boys had favorite friends Talking Mickey and My Buddy. I really wish I had taken better photos when the boys were younger, but I am happy to have these photos.
My journelling was do in the Curlz font in alternating colors of blue and green and I attached green and blue stars on the corners. The tag was cut from my Sizzix machine and I added a dye cut star and a brad.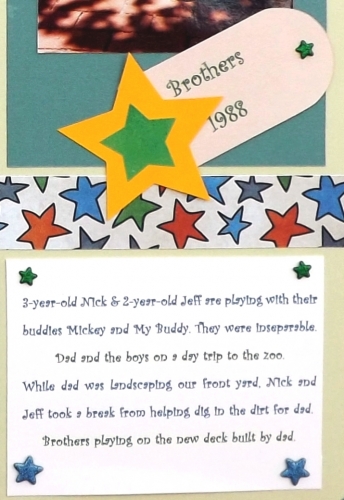 The patterned paper I used was stars from end to end of the grid paper

My second page is using the same color grid paper, Bamboo and pattern #5. Nick was 10 and Jeff was 9 and we went to Dorney Park n Pennsylvania. This time I used teal blue matting.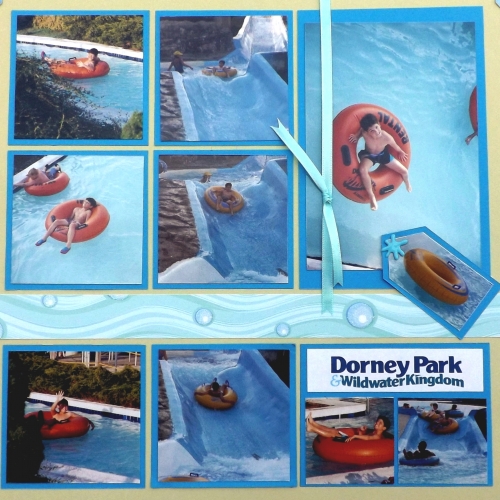 Or favorite rides at Wildwater Kingdom were the Riptide and the Lazy River. I found a great patterned paper that looks like waves and bubbles. The color of the paper is just perfect for this grid paper and the photos. I downloaded the title and used it as my title.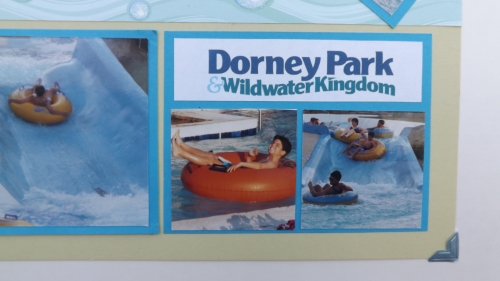 On the photo at the top right I added a ribbon over the date that my camera included in my photos to hide it. It is a soft green satin ribbon. I used a portion of a photo with a yellow tube that I mounted on teal blue card stock with a water splash brad for my tag.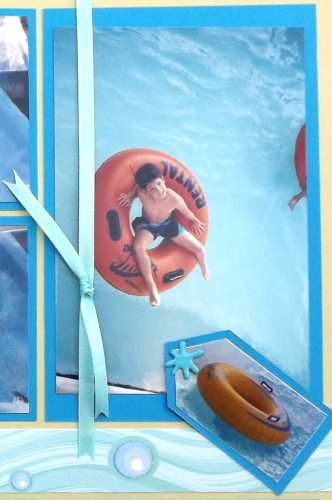 This was such a fun day and a great memory for us. When I was choosing my photos for this challenge, my boys enjoyed seeing these photos again and it sparked lots of conversation which I find is the best part of scrapbooking.
As a side note, I really had trouble photographing these pages. The top portion of the page always comes out wider than the bottom and it was very hard to crop. I did not have this trouble with my earlier pages. I am going to have to practice lots before I take the photos for our next challenge!

Shared by Dale Hill on March 10, 2013 | Memory Date: March 10, 2013