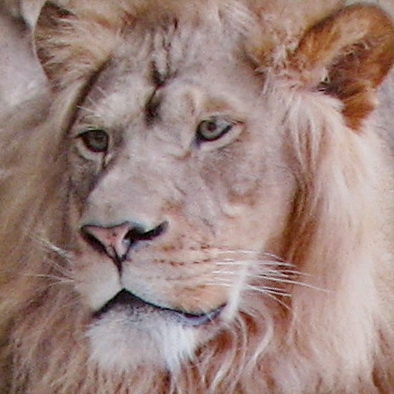 Welcome back! Challenge #5 was to use Mosaic Moments Bamboo Grid paper, Page Pattern#52 and one or more of the following:
Tags

Large title

Patterned paper
I completed this layout on my trip to MI at Gotta-Scrap Inn as well. Because Page Pattern #52 has so many photos, I decided to do a zoo layout as I have a lot of good zoo photos that I've taken over the years. I go to the Milwaukee County Zoo every year on my birthday and I love taking pictures of the animals.
I had brought my zoo photos and some zoo paper that I had with me on my trip, but when I got to Gotta-Scrap Inn, Amy had stocked the store full of BoBunny's Zoology collection and I just flipped for it! So, my boring zoo paper came back home with me and I used her patterned paper and embellishments. Here's a picture of the patterned paper before I chopped it up into 1" squares: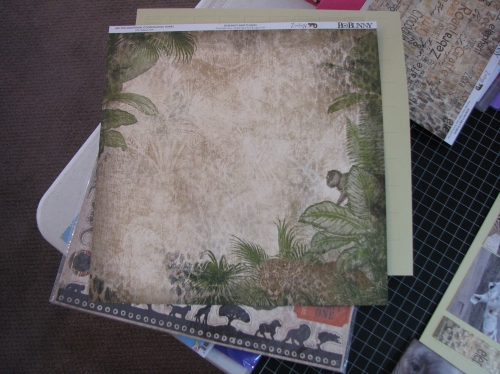 And here is the finished product: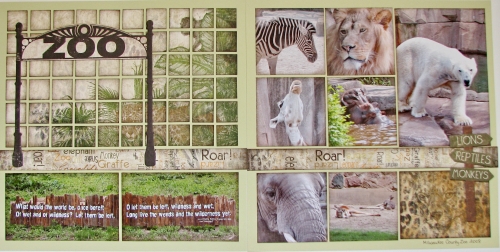 As you can see, I used the coordinating chipboard elements for the large title on the left page and the cute directional sign on the right page. The right page is Page Pattern #52, and the left page I think I invented myself. Here are some close-ups:
The saying is painted on a fence at the zoo and I thought it made excellent journalling!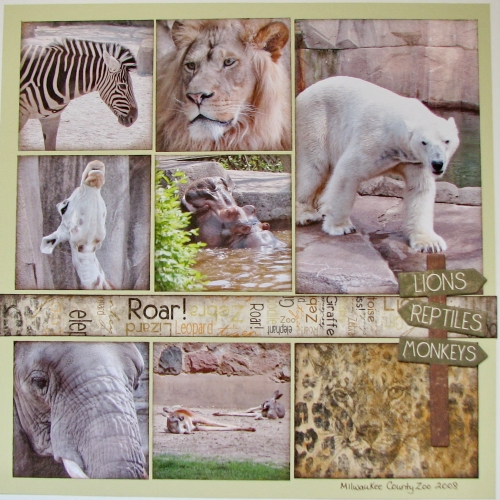 I thought I'd let the animals say it all and just put a handwritten time/place down at the bottom. I hope you enjoyed my layout! Thanks for stopping by!
Shared by Heather Cartland on March 2, 2013 | Memory Date: March 2, 2013