Do you see a glass as half empty or half full? How do you perceive life's events?
This challenge has brought back fond memories of a movie from my childhood. More than that, it has reminded me of some of the choices I made early in my life, that have continued patterns in my life today.
Our second challenge for February was to choose a Walt Disney Movie and let it inspire the photos you take/use. You can choose the general movie theme or one part of the movie (such as the title, a song, a character, or a quote) to use as inspiration for your page.
The movie I have chosen is Pollyanna. The main character, Pollyanna Whittier is played by Hayley Mills. I have found inspiration for the colors and design on the layout in a dress she wore, white, lacey with a large blue band and bow to set it off. In addition, Angelica, a house maid, made a comment in the movie about life not being all hearts and flowers…so I envisioned using embellishments to reflect that quote. Then the inspiration for the photos I took/used came from the theme in the movie that centered on a game she played, The Glad Game.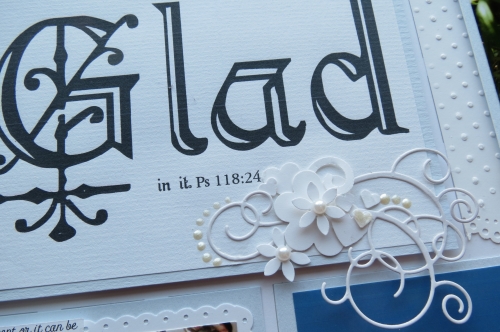 The movie Pollyanna was adapted from a 1913 book by Eleanor Porter set in the early 1900's. Its popularity brought forth several sequels and Glad Clubs across the country. Over the years people have used the name Pollyanna in a pejorative way for those who would always see life in a most positive way. In the movie Pollyanna (an orphan now living with an aunt) explains the game her father began when a missionary barrel arrives, Pollyanna hoping for a doll, finds crutches! Together they find they can be glad that they didn't need them. Perhaps a simple concept, but for a child, this becomes a practice of looking for things she can be glad for, thankful for, appreciative of…and it shapes her world view. She learns to see the glass half full. Her game that she teaches everyone to play changes a town.
When I first saw this many years ago on Walt Disney's Wonderful World of Color it was a concept I understood and grasped and tried to put into practice. As I grew older, I saw the correlation of a positive outlook on life and living. An attitude of gratitude was something I tried to impress on my children. For us we found things to praise God for, things we could see as His hand in our lives, His blessings, His providence. We called it going on a God Hunt. For this layout I have chosen the simple everyday events of my life for which I am glad. I began when my children were toddlers to teach them two Bible verses that have become cornerstones to this idea of being 'glad' and I have included them here.
If you are interested in exploring the whole concept of gratitude as a transforming attitude, might I suggest a current best seller by Ann Voskamp, "One Thousand Gifts: A Dare to Live Fully Right Where You Are."
In life there are many choices we make. Often the challenges of daily life require us to make choices that will affect us forever. We can see things half empty or half full. If we see it half full, chances are that our attitudes will also be changed. Gratitude is a choice; it becomes an attitude that guides us in all our decisions.
Now to the layout!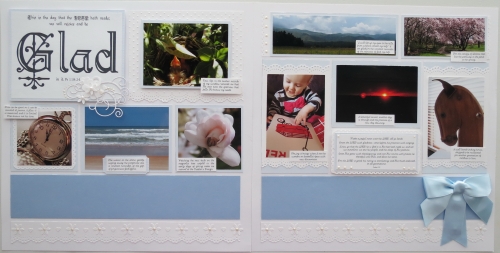 I was working on a white 12 x 12 Mosaic Moments grid. Wanting to use all white in the layout became a bit of a challenge trying to find enough white cardstock to match…do you have any idea how many shades of white there are???? I did use some of the White Paper Tiles from my stash, but I had to also include a very pale blue for contrast. The blue band is pearlized blue cardstock; the blue ribbon is from my Anna Griffin collection. I have included pearls (snowflake) from Queen & Co. and liquid pearls using Viva Pearl Pen (cream). I have used a variety of punches for the embellishments (EK Success, Martha Stewart and others). The Elegant Scrollwork die is from Memory Box. The font on the journaling is CK Holiday Spirit. The title font is Kelly Ann Gothic. Cuttlebug Swiss Dot embossing folder was used for texture on some of the tiles.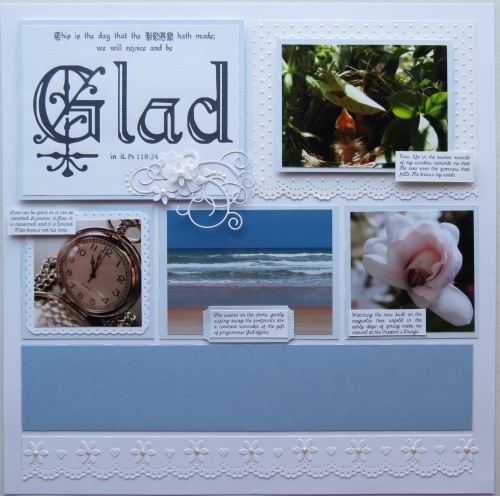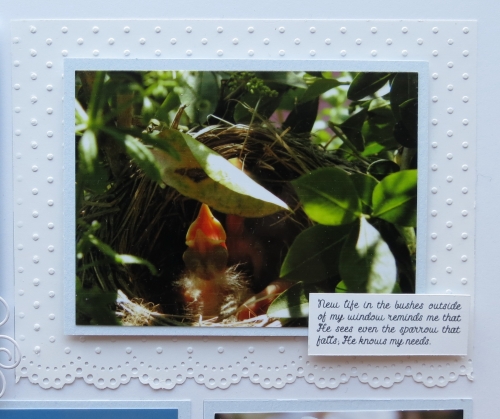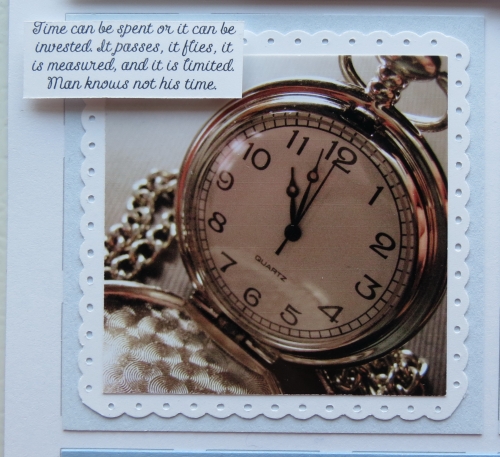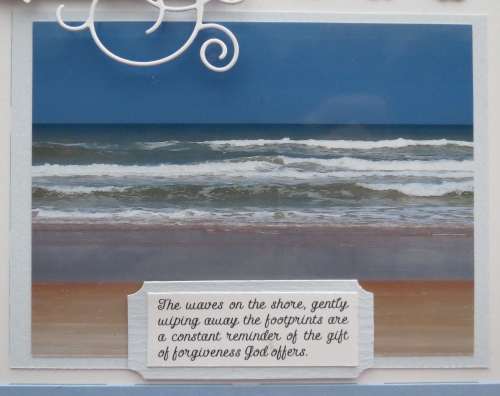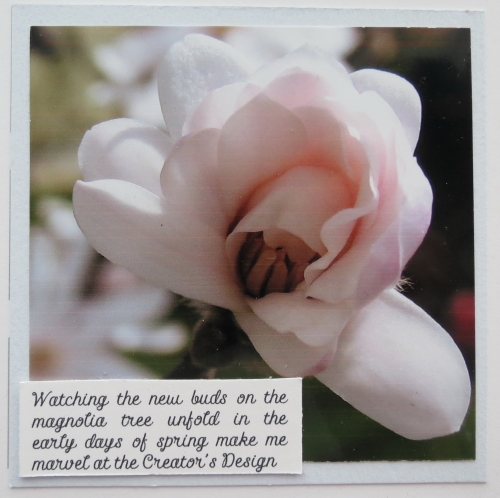 page 2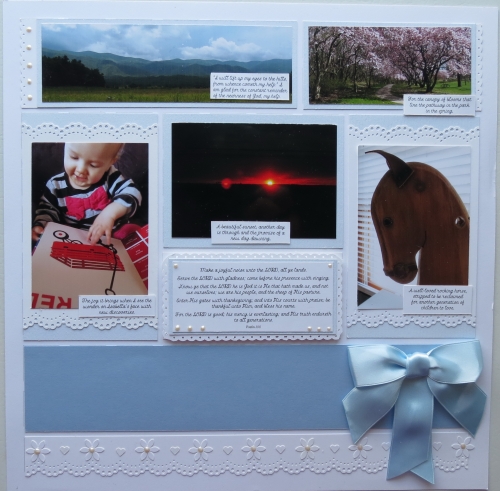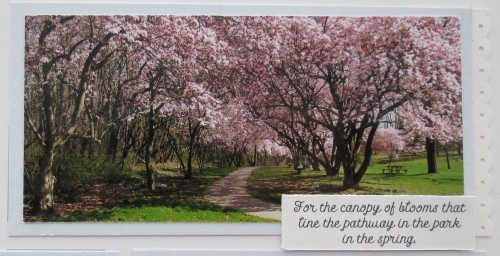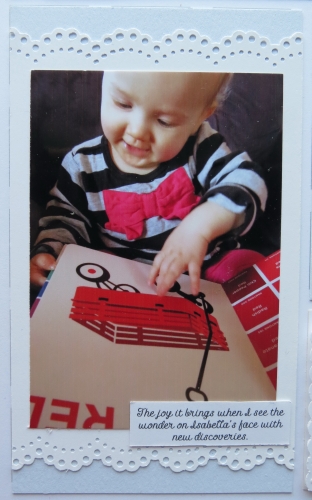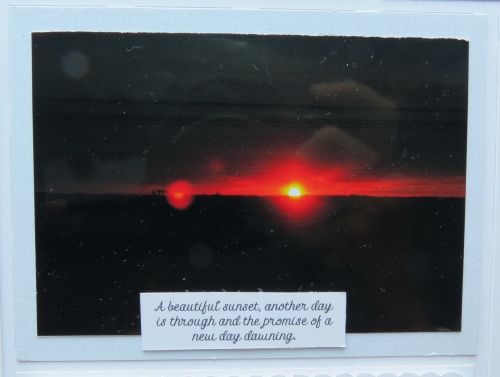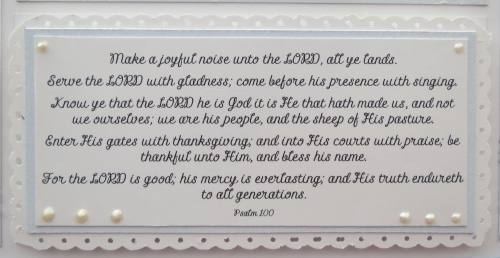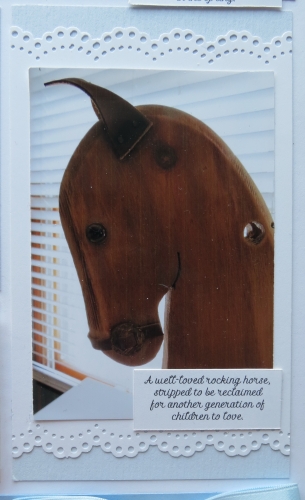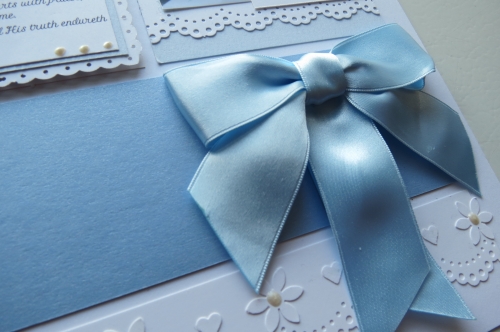 This is the dress from the movie, a photo from the internet.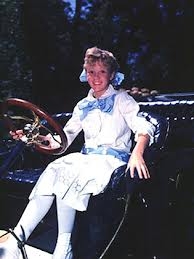 There's still a few days left for you to join us in this challenge…there's so many Disney flicks to choose from, why not come and play along!!
Thanks so much for stopping by,
Andrea
Shared by Andrea Fisher on February 19, 2013 | Memory Date: February 18, 2013