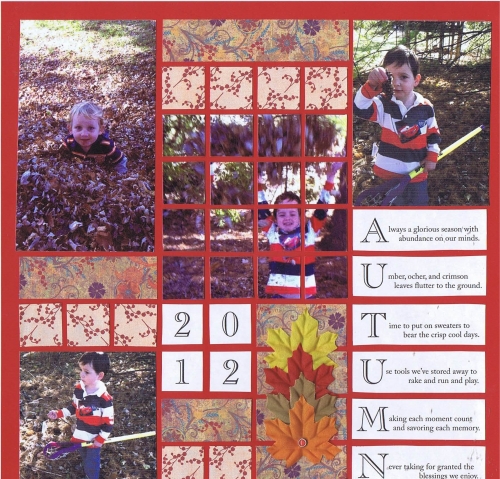 I also ended up doing the February assignment twice! I had altered the page pattern, but I decided I would go ahead and post this as an example of how you can take a page pattern and alter it to fit your needs.
These are pictures of my uncle's grandkids. We lost contact for a long time and got reacquainted when my mother died. It was so good to see him again and catch up with his family. The last time I saw his son he was a young teen - now he is grown, a minister, with a family of three sons! My uncle is also a minister - he married us 28 years ago!
I started placing the pictures and then started looking through the available free downloads and saw this Autumn title with words that I really liked and it would just fit the space below one of my pictures, so I went with it! The download I used was FDLAutumn2011. I ended up filling my last blank space with a few fall leaves and a brad. Patterned papers are from Hot Off The Press (Hot and Spicy Paper Pack).
Shared by Nancy Sanders on February 4, 2013 | Memory Date: February 4, 2013