Challenge #2 in January was to create a layout using Dr. Seuss as inspiration for a title, photos and journaling. I chose to use photos of our trip to Maui and naturally the story One Fish, Two Fish, Red Fish, Blue Fish by Dr. Seuss came to mind.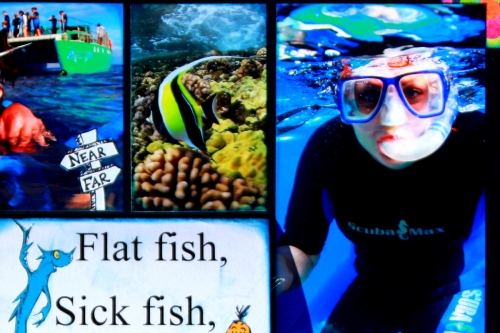 For this page I used the black grid paper from snapncrop.com. I like the black paper because it defines each different area and other colors POP on black grid paper.
Here is a photo of the first page: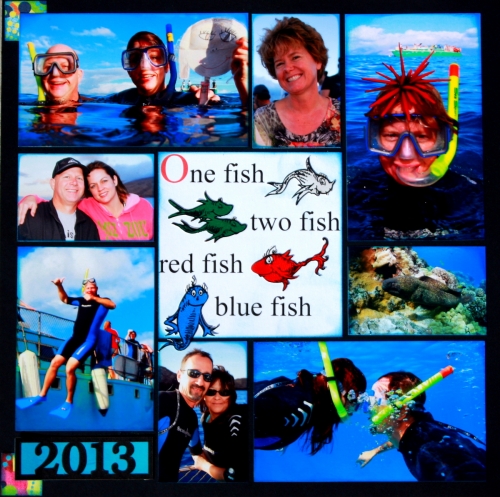 After reading through the story once more, I chose to follow the pattern while still making it fit my purpose. So instead of "black fish, blue fish, old fish, new fish" I chose to use "Flat fish, Sick fish, Arkansas and June fish."
Flat fish refers to flay Lynnsey, who is visiting from Illinois. THIS is a great story in itself! It is a spin off of the children's book, Flat Stanly, authored by Jeff Brown. Flat Lynnsey came from a 3rd grader in Heyworth, IL. A little girl named Macy sent her to Arizona for pictures and adventures. Never did Macy dream that Flat Lynnsey would go snorkeling in Maui!
Sick Fish refers to a couple we met from Tucson, Arizona. Poor Mark was sick the majority of the trip and still managed to keep up with bicycling 26 miles down Haleakala Volcano, snorkeling, zip-lining, and all the other adventures. Alice, Mark's new bride, was very sympathetic to Mark, but wasn't going to miss anything!
Arkansas refers to a couple we met from Arkansas. Surprised? Annette and Eddie were not only fun, but they helped to keep the group together. Annette's sense of humor still has me chuckling to myself from time to time. Although, I must admit- She was sketchy playing 2 truths and a lie.
Lastly, "June fish" refers to a woman named June. June made this trip alone and had made a conscious choice to have as much fun as possible. She was always smiling, easy to talk to, and willing to try new things.
Here is page 2 of the layout: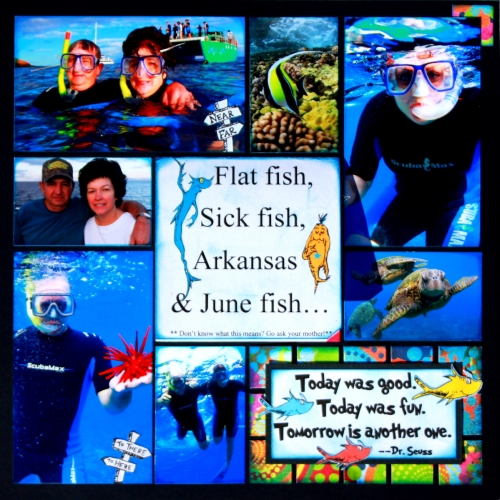 Unfortunately, because I decided to do so little journaling on the page, I had to make the 2nd page with a flip up tab for journaling.
Here is a photo of the writing: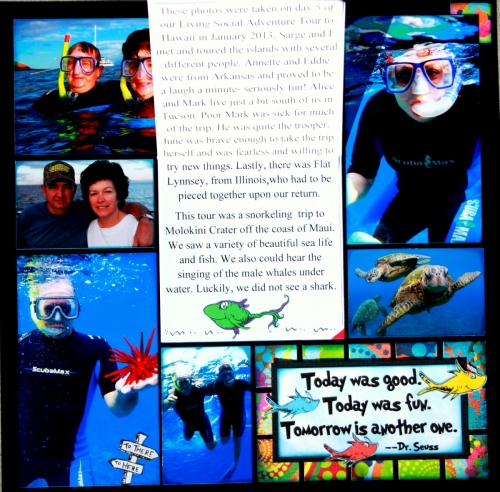 And as always...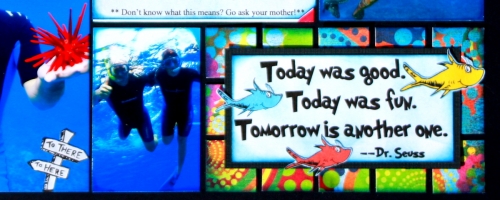 Shared by Billi Glenn on January 17, 2013 | Memory Date: January 17, 2013