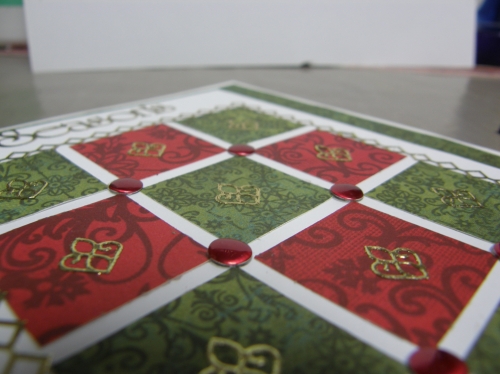 I had the greatest intentions this month of trying to do both of the 2nd half challenges - to make cards AND to make up one of the new multi-mini page album pages because I'm intrigued by the new format and I want to play! However, time just did not work out, so I decided to go ahead and make some Christmas cards, which I need to do anyway!!
I really spend more time making cards than I do scrapbooking a lot of the time. I love stamping techniques and all the tiny embellishments. I made six cards for this challenge and tried to make each one a little different:
This first one uses a template from Paper Wishes that I love - it's similar to the rosettes you make with strips of paper into a circle, but you cut shapes and it turns into a snowflake! I made this one out of vellum and edged it with silver Stickles.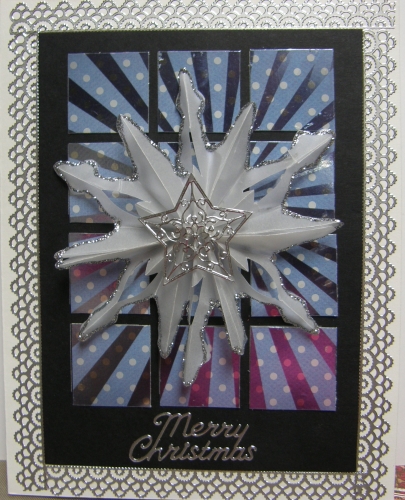 I first used a foil paper that had a great sunburst effect and cut it in one inch squares: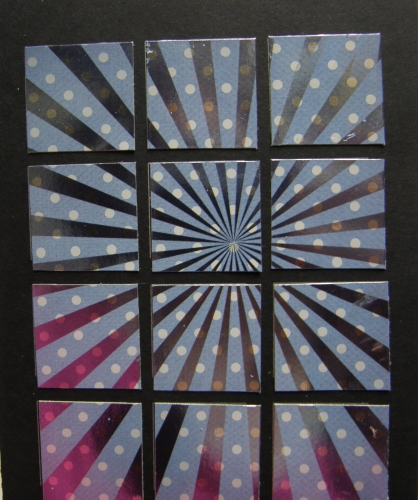 I then prepared the snowflake. You fold your paper, and place the template on the fold.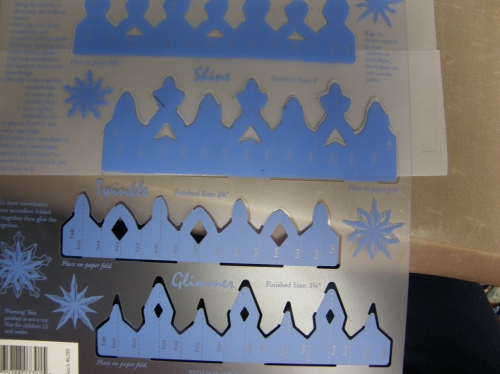 You then mark with pencil and then cut out the design.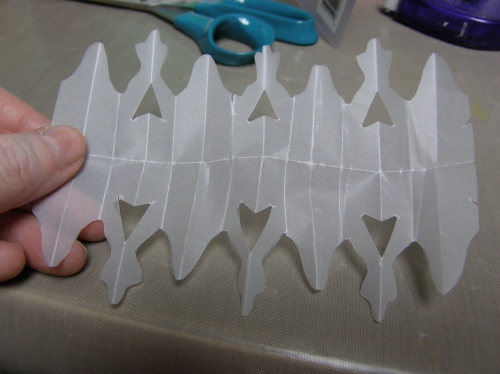 Unfold the piece.
Then accordion fold it with the mountains being with the points and the valleys in between.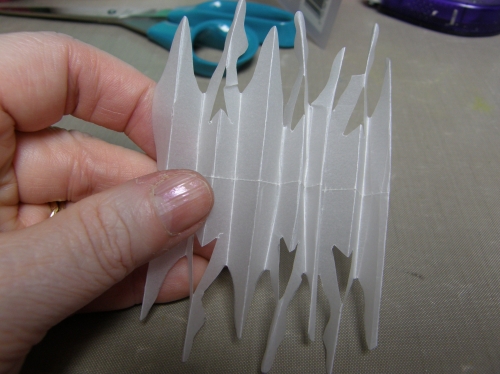 Next, and this is the trickiest part, you will fold the ends in so that they meet: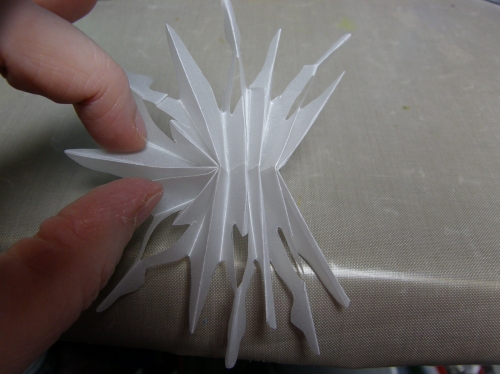 Then you use strong tape or glue to hold the snowflake together on each end. I also use a glue dot to hold the center together as well. I then covered the edges with silver Stickles and put a Dazzle in the center.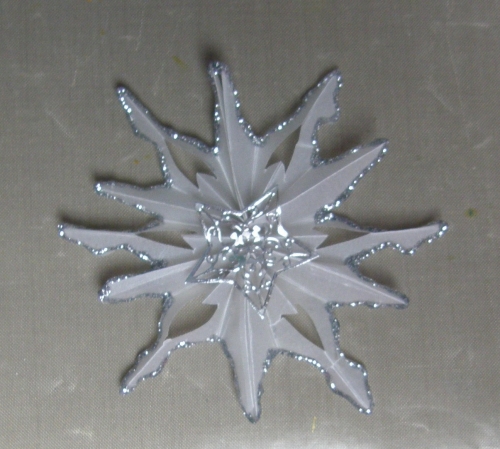 The next card I took a stamped image. I love this stamp from Outlines Rubber Stamps.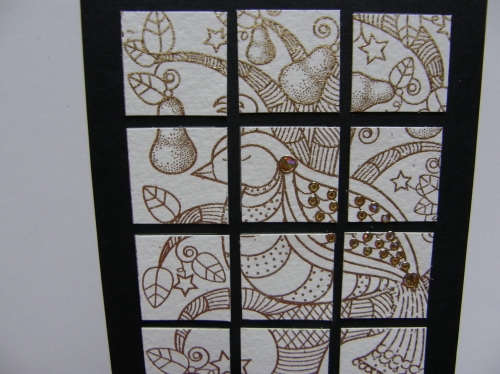 I then added little Gold Jewel Dazzles in various places on the partridge, added a few stars, and some gold Stickles. I then matted it on gold holographic paper to make it really shine and added a gold holographic greeting.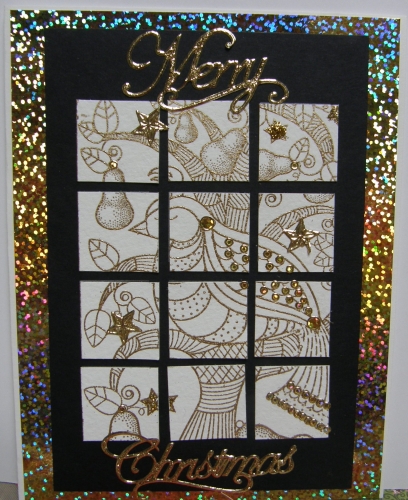 The third card is very simple. I cut four strips of patterned paper 3 1/4" x 1" and placed them across the four rows of the grid. I then added two ready-made die cuts from a Christmas Card kit. I added a few rhinestones to the star on the tree. Both of the die cuts are popped up with pop dots.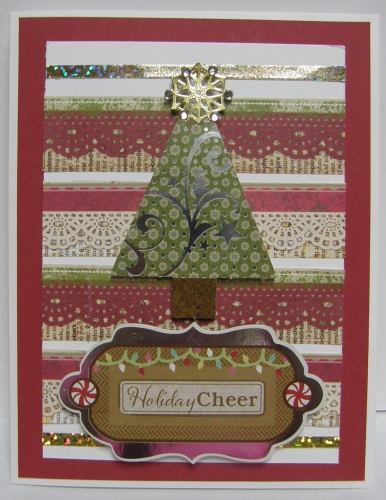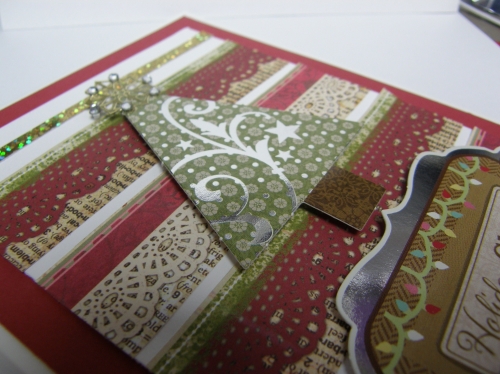 The fourth card is also a simple one. I simple cut green and red patterned paper into one inch squares, added a sticker to each one, put red metallic nail heads between the squares, and added gold borders.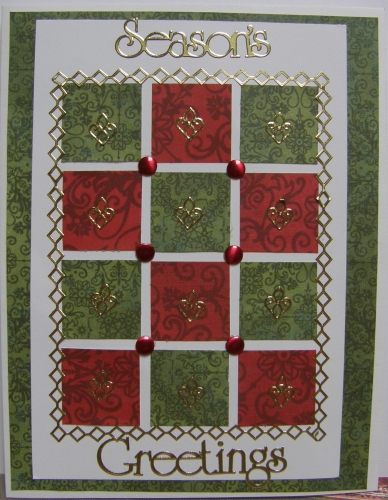 The next one, I spritzed the grid paper with green Smooch Spritz before putting any paper on it. I then added alternating rows of 1" squares and a full strip row (1" x 3 1/4"). I put stickers in the 1" squares and added ribbon to the large rectangles. I matted the whole panel on gold holographic paper.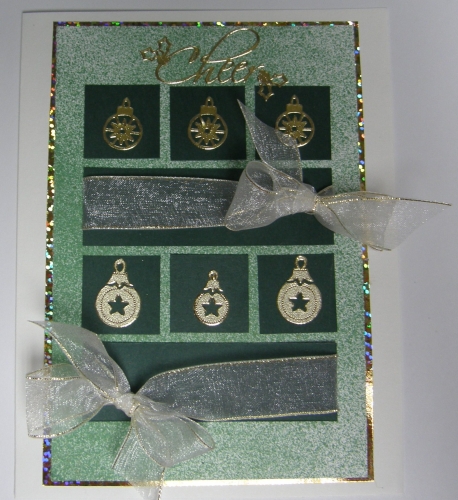 And the last card, I simply cut a piece of embossed, glittered patterned paper the size of the full grid (3 1/4" x 4 3/8"). I then added a cute red holographic sticker of a nutcracker and edged the panel with gold border stickers. I matted the entire piece with red holographic paper. I then put four red holographic holly sticikers on green cardstock and cut them out to add a little more color.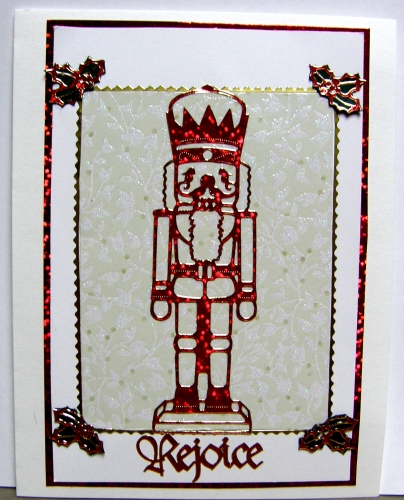 Shared by Nancy Sanders on November 19, 2012 | Memory Date: November 18, 2012