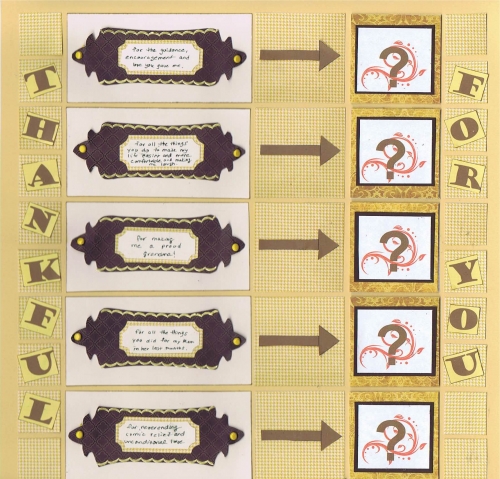 There are so many things I am grateful for in my life. Trying to get them down to just a few for a scrapbook page was challenging. But when it comes down to it, the things that matter most are the people.
For my page, I used a product that is new to me. Have you ever found a product and thought to yourself, "Boy, I sure wish I had that when I was working on...." Well, this is one of those products! Flip Flop Fasteners from Hot Off The Press (www.paperwishes.com) are little adhesive strips that you can use to make your scrapbook pages and cards interactive. They're very simple to use - you simply stick one end to one piece of your paper, and stick the other side to the other and you have a panel that will flip back and forth.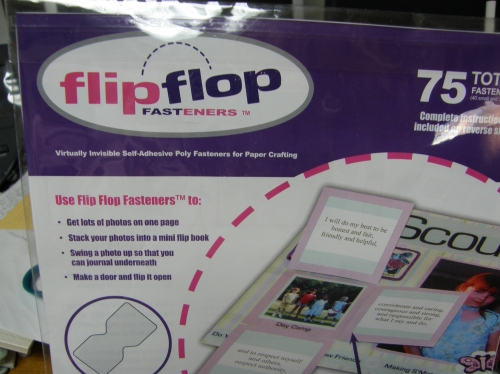 Here I've placed the first half of the sticker under the photo, onto the bottom panel. Please disregard the ugly nail polish! This is scrappin' day, not hand-model day! :)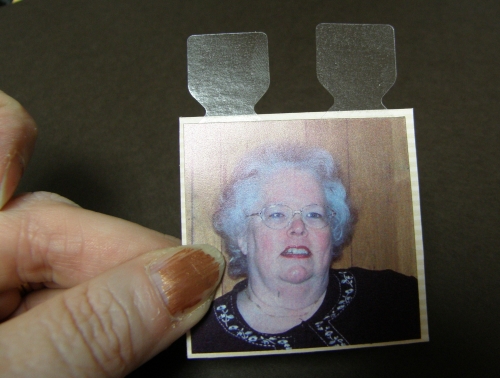 Here you can see the fastener attached to the top panel. On top of this I added a piece of plain ecru cardstock with the name of the person (here, my sister-in-law, Rose Ann Garletts Seawell.)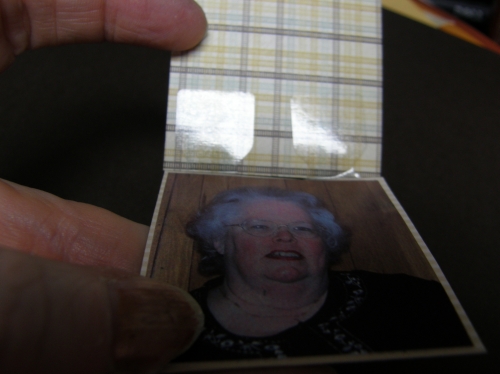 And here is the "booklet" closed.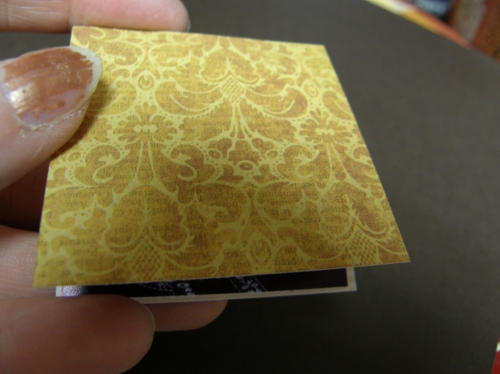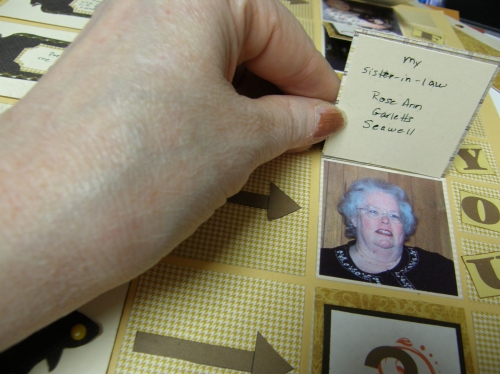 To finish up the page, I added journaling about what each person has done for me:
My mother "for the guidance, encouragement and love you gave me.

My husband "for all the things you do to make my life easier and more comfortable and for making me laugh."

My grandkids "for making me a proud grandma!"

My sister-in-law "for all the things you did for my Mom in her last months

And finally can't leave out My cats! "for neverending comic relief and unconditional love."
By the way, the paper I used in this project is also from Snap 'n' Crop (Mosaic Moments) - one of the 6x6 paper pads by My Mind's Eye called Lost and Found.
Shared by Nancy Sanders on November 4, 2012 | Memory Date: November 4, 2012