Our second challenge for October was to create a mostly mosaic style page on 8.5 x 11 Mosaic Moments Grid paper and mount it onto a 12 x 12 sheet of paper, our choice of pattern or solid. And we could choose either felt, yarn, thread, twine, or string as embellishments.
I had never used the 8.5 x 11 paper, and so I had to give this project quite a bit of thought. I had some pictures of our recent trip to Tennesse and a background paper which I wanted to use. It seemed I needed a brown grid paper, and I couldn't find any. Therefore, I created some by cutting down a 12 x 12 sheet. The whole project went together quickly, and I was very satisfied with the whole look. The patterned paper was a predesigned page from Close to My Heart, and the colors went well with my pics.
The letters for "Tennessee" are brown felt and have stitching on them which tied in with the look of stitches on the paper. I also used a 2012 year striplet from Tami Potter. It was white, so I antiqued it with some vintage ink.
This page is going to be the cover sheet for my trip. I really liked the technique (don't know why I didn't think of it) and will use it again. By using different pattern papers, the ideas are limitless.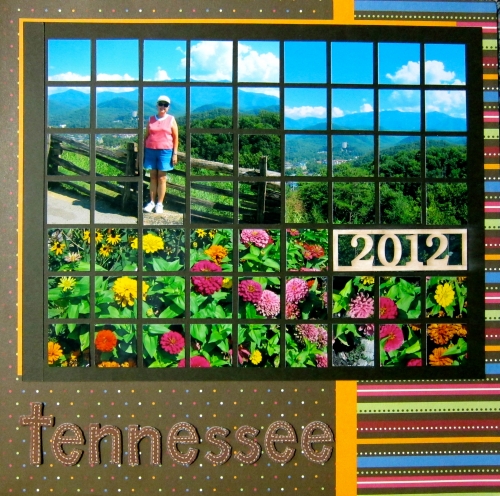 Shared by Linda Holmes on October 23, 2012 | Memory Date: October 22, 2012