October's second Design Team challenge was to use 8 1/2 x 11 grid paper to create a page and mount it on 12 x 12 paper. We were also to incorporate felt and/or twine, string, jute into our design.
My son's high school homecoming was two weeks ago and those photos were fresh in my camera, so I decided to use them for my page. I combined some shots from his football game and a few photos of the kids dressed up before going to the dance the next night.
The school colors are royal blue and white, so I stuck with that theme throughout my page design.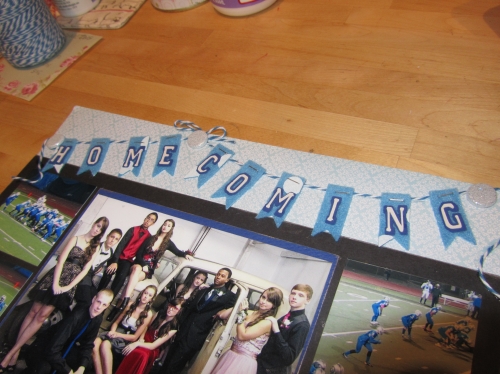 I recently purchased a banner die cut for my cuttle bug and I wanted to try it with some felt I had. It worked great. I used the felt and some baker's twine to create the banner for my title and cut out the letters with my Cricut. I finished off the banner with some glitter brads and staples from my beloved "Tiny Attacher"!

Shared by Sarah Lewis on October 22, 2012 | Memory Date: October 22, 2012