What are the first five "sweet corn" thoughts that come to your mind?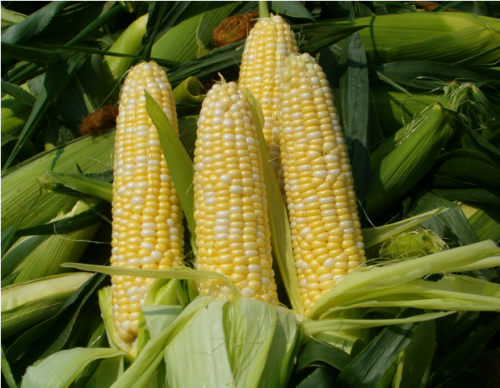 My List:

1. Weed and Water Duties - During the summer, between my 4th and 5th grade years, my father planted a field of corn. My brother and sister and I had to go out in the field and hoe the weeds and water the corn all summer. (This was a new experience for three kids who had previously lived in the city. We didn't like it.)
2. Sweet Corn? - When our corn was grown my Dad put a sign up at the end of our driveway to let people know the corn was for sale. One day, when my parents weren't home, a man came to buy some corn. I did my best to help him, but, he asked me a question - "Is it sweet corn?" I think I told him "no" because it wasn't sweet to me. (I had no idea that there was different corn - sweet corn (sold for people) and field corn (grown for animal feed.)
3. Children of the Corn - When I was a kid I loved to watch scary movies. The movie "Children of the Corn" cured me of any desire to watch another scary movie.
4. Corn Field Maze - A few years ago Kevin and I took our children on a field trip to a dairy. They had a maze cut out of the corn field; so, we walked through the maze.
5. Corn Husks - I love that the grocery stores put big boxes next to the corn so we can shuck the corn before we buy it. (Less mess to bring home!)
Shared by Tami Potter on October 19, 2012 | Memory Date: October 19, 2012