Our first challenge for October was to exhibit signs of autumn. I had decided not to "fall" into the pattern of just thinking of turning leaves and had nearly completed my double layout with pictures of my grandchildren at the pumpkin patch. However, somehow their pics just didn't fit with the 1" leaves I had used for most of the border. So . . . I ripped off the pictures of the children and inserted the ones of the trees in our neighborhood (matted with very dark brown).
I changed the name from "Pumpkin Patch" to "Autumn" in the lower left corner of page 1 and added a pre-made border of felt leaves along the bottom (one of our October embellishment options was to use felt).
I still needed to fill in some space, so I added a journaling box with a metallic leaf sticker on each page. The title is made of Kraft paper 1" squares and dark brown letter stickers. Oh yes, I used the mango grid paper for my project.
Finally, I felt good about the layout and am pleased with it. Hope you enjoy it too--thanks for looking!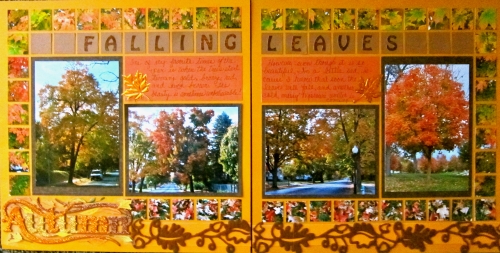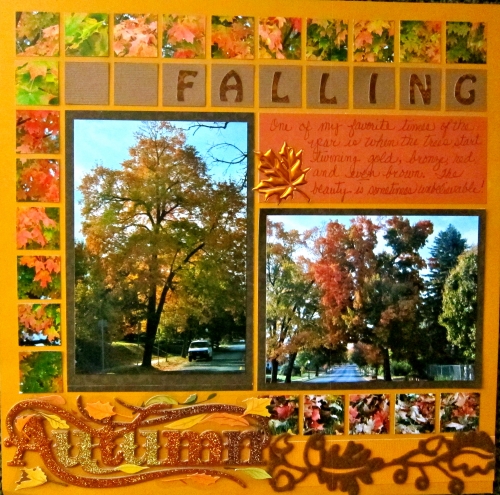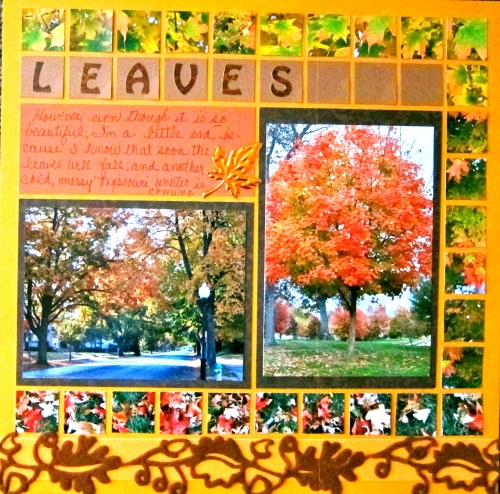 Shared by Linda Holmes on October 7, 2012 | Memory Date: October 7, 2012