Thought I'd punch up my list today with a few photos to illustrate.
What are the first things that come to mind when you READ this: Fiddle,
1. My mind goes directly to the instrument I wanted to learn to play... when in grade school they handed me a violin instead. (still planning to to learn the "fiddle", necessary for bluegrasss music as well as Scottish folk music)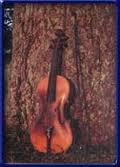 2. Then there was the Fiddle-r on the Roof...a musical that has acted as a score for so many events in our lives...and how we tell the story. We can be a bit over dramatic at times!
3. Then there's the great Fiddle-r Charlie Daniels who brought fiddle music to rockers as well as country fans for many, many years. (The Devil Went Down to Georgia)
4. Then there's Miss Scarlet....and her "fiddle-de-de"
in Gone With the Wind.
5. And then there is fiddlesticks...where that comes from beyond the game, I don't know...but it did come to mind!

Shared by Andrea Fisher on September 26, 2012 | Memory Date: September 26, 2012