We just returned from a vacation to Pigeon Forge and Gatlinburg last week. We took a 1-hour free camera class at our resort and learned more than we did in three courses at the local college. We spent lots of time trying out our new skills. One tip from the instructor was to take lots of pictures, so we have much more to choose from than in the past.
We went to Parrot Mountain to see the birds, but we were also treated to a wide array of flowers and greenery. It was such a beautiful, peaceful place, and we enjoyed it immensely.
Our challenge this time was to use scarlet grid paper and create a page using only 1" squares. I decided to add a companion page, because I didn't want to cut up the picture of the parrot which is the focal point of the two-page outlet. I matted it with dark green.
Hopefully, the colors show at least close to the originals. I didn't journal yet, but I will on another page showing more of the birds and flowers. The title is 1" squares of dark green topped with 7/8" squares of light green. the letters are dark green. There were so many different types of green in the pictures that it was hard to match, but I was satisfied with the overall look. Sorry I couldn't get these to load in the right order, but I think you can get the idea. The first one is actually page 2.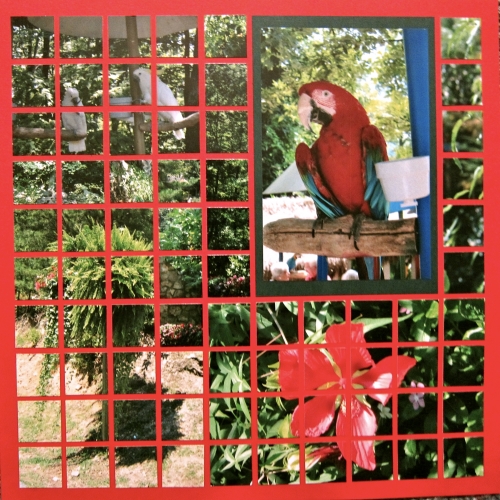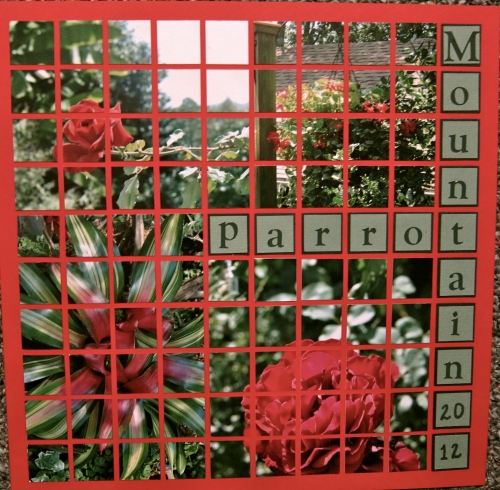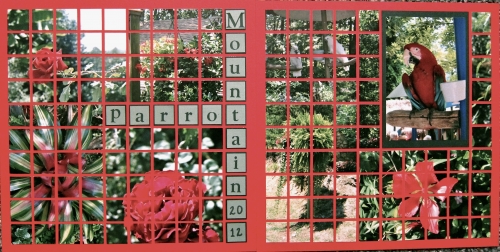 Shared by Linda Holmes on September 18, 2012 | Memory Date: September 18, 2012