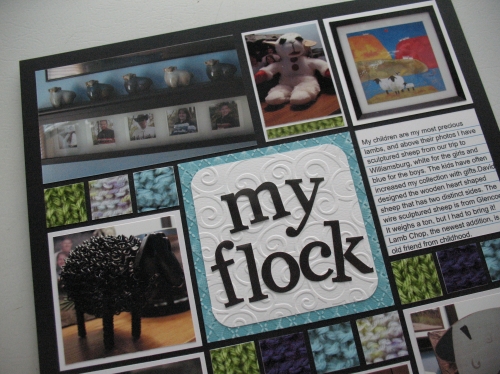 The days have flown by since our last Challenge. When I first began to consider Tami's Challenge to "Be a Squirrel" and share a collection, something we have gathered or saved, I was stumped. Libby has a great collection of la-de-da shoes, but that's not mine! I thought of the variety of nativity sets I have collected over the years, but the very thought of going down to the sheds and digging out all the boxes was exhausting! I'm not ready for Christmas just yet!! The kids said..."what about your sheep?" Well visions of revealing myself as a "Barbara Jean" (from the show "Reba" who had an extensive Beanie Babies collection)...well...just didn't want to go there. As I gave it additional thought though I realized "my sheep" are more than a few stuffed sheep. So that is what I have tried to bring to these pages are a few representations of "My Flock".
I've collected art work, sculptures, primitive crafts, fabrics, coasters, and books...lots of books. I've included rubber stamps and some of the many cards I can make with them, I even have a ceramic sheep for holding tea lights that was a birthday gift one year. My son, David designed a heart shaped sheep that he's finished on both sides, for two different sheep. Then there is all the wool I have, not quite a sheep but a byproduct so I used scanned images of swatches I did in a few of my favorite colors. I've cut them to use as fill spots to bring color and texture to the layout. And I managed to get one of my many photos of the sheep from my travels included, they are a favorite subject when travelling as there are so many different breeds...
The trouble with people knowing you "collect" something is that they happily try to add to your collection...but some are just not to my liking, so I often rotate what is out.
I'm not sure when my interest with sheep began…was it the comforting words of the 23rd Psalm…"the Lord is my Shepherd I shall not want"…where I realized I was a sheep with a Shepherd who would keep me safe…or the verse that says we all like sheep have gone astray…where I recognized my wandering tendencies, too? I can't really say…but when I found out the farm that my family had run in the early to mid-1800's was a sheep farm it somehow made sense to me!
I began with the MM page pattern # 3
and then made a few adjustments to suit the photos I was using. The free download Lined Journal Blocks were perfect for both journal blocks. The title base is Aqua Core'dinations cardstock embossed with Cuttlebug's Argyle folder and sanded a bit around the edge. Then white embossed D'Vine Swirls folder by Cuttlebug and the edges are rounded. The letters are from a set of letters from My Mind's Eye.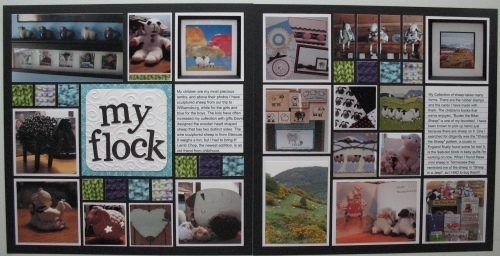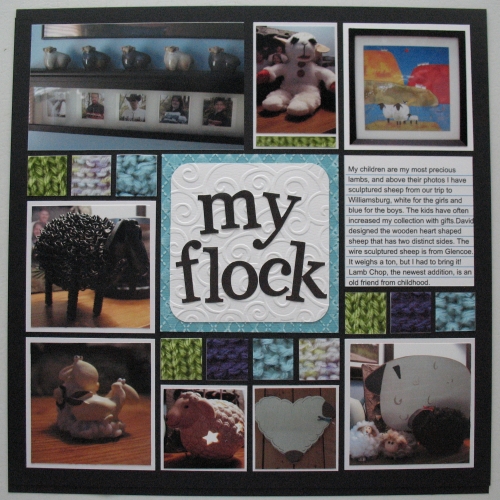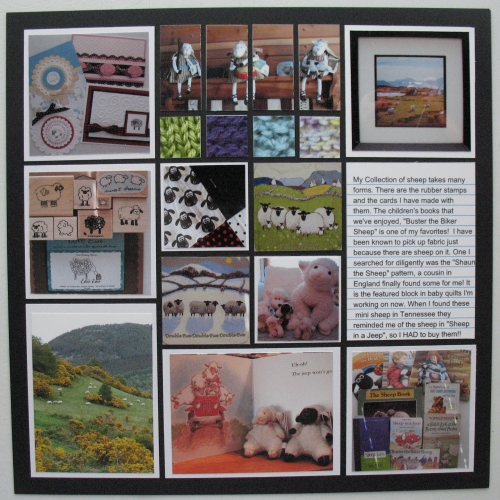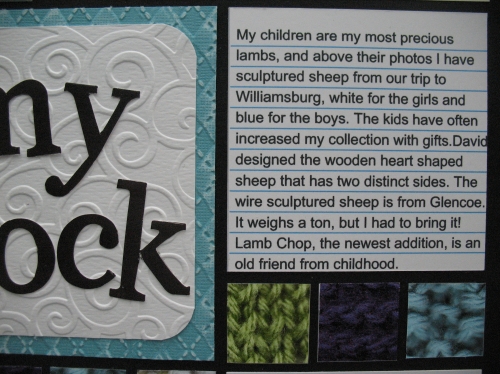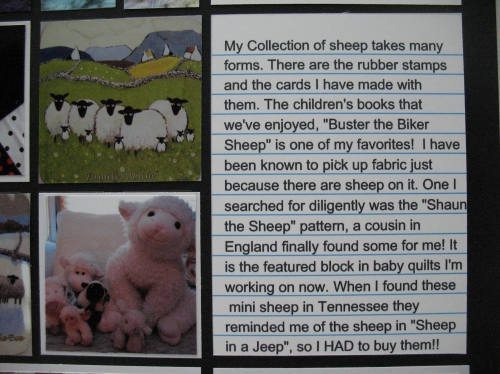 Well, I hope this revealing side of the Design Team Members in this Challenge will bring a few smiles...perhaps you will think about the things you collect too and put together a page...and share them here with us!!
Thanks for stopping by and spending a few moments taking a look!
andrea
Shared by Andrea Fisher on September 3, 2012 | Memory Date: September 3, 2012