Actually, the truth is BOTH!

I have a very eclectic personality and style, and my favorites tend to show that...and so do many of my photos! For this first Design Team 2014 challenge, we were to make a list of favorites and then let one or more things on the list inspire our pages. First, here is my list:
FAVORITE BOOK

: Anything by VC Andrews, The Twilight Series, and my all time favorite, "The Way of the Wolf" by Martin Bell. If you've never hear of this book, here is a brief description:

"Intriguing tales, timeless poetry, enchanting songs . . . Beguiling characters like Barrington

Bunny . . . Joggi, the porcupine . . . Lena, the witch . . . Joshua, the boy who has lost his magic . . . and the great silver wolf -- majestic, ever-present, mysterious . . . A book that will inspire you to consider and celebrate such things as love, forgiveness, acceptance, salvation and commitment."

FAVORITE MUSIC

: Classic Rock (70s and 80s) all the way, though I love Pop, Jazz, and R&B too!

FAVORITE FASHION ITEM

: A watch....I have around 150 ! (Maybe I should do a layout on THAT!)

FAVORITE RESTAURANT

: Depends on what I am in the mood to eat! Osaka for Sushi, Ruth's Chris for a special occasion, many others. My husband and I are "foodies" of sorts, and go out to eat A LOT!

FAVORITE PLACE TO VISIT

: Warm sunny beaches in tropical locations! Second would be the zoo...any zoo, any place!

FAVORITE SUBJECT TO PHOTOGRAPH

: Vacation spots, nature (flowers, foliage, animals and birds), architecture, and what I will refer to as "weird stuff" (see title above!)! I like to photograph stairs, sidewalks, walls, decor, things that most people probably never take the time to photograph!

OTHER FAVORITES

: Caramel (don't like chocolate), the Oakland Raiders football team, hot tea - but no herbal (don't do coffee), reality TV (Amazing Race is my all-time favorite!), the smell of eucalyptus, live theater (I have season tickets to three different theaters!), macaroni and cheese, scallops, wolves, penguins, and any baby animals, and my sweats (change into them after work daily and live in them on weekends!!).
SO..........
I started out thinking that I would highlight a bunch of my favorite things, but as I started planning the layout, in the COLD COLD dreary Minnesota winter!, I kept coming back to my all time favorite thing...traveling, especially to warm, tropical places! So, I chose photos of one of my favorite places, Couples San Souci in Jamaica. I selected not only photos of the beach, but vegetation, architecture and design elements, decor, and "nature". This layout shows my love of travel, one of my favorite places to travel to, and some of my favorite things to photograph all rolled into one!
Here is the full layout: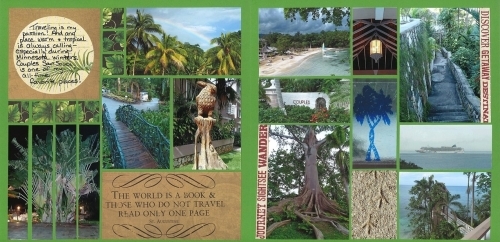 Page 1 has some journaling and a quote. The quote and the background paper for the journaling are from the same piece of paper from Reminisce's "Travelogue:The World Is a Book" paper. This page also has a photo of the little bridge and one of the many wood carvings around the resort.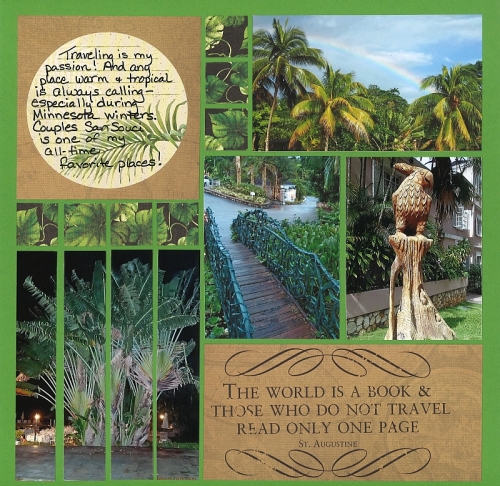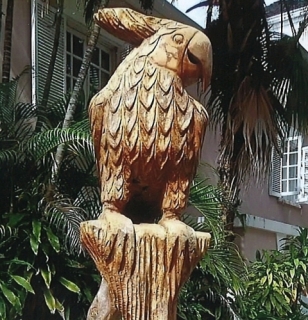 Here is a closer look at the journaling (the circle is a thick sticker journaling piece from Reminisce's "Tropical Elements"):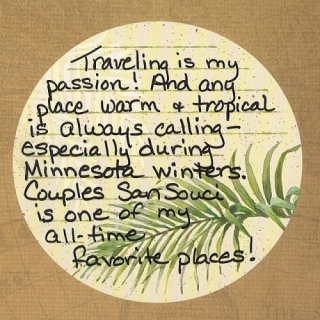 I also used 1 inch squares of patterned paper to fill in the few open spots I had left. This paper is from Graphic 45's "Tropical Travelogue" collection.

Page 2 is a collection of photos from the resort: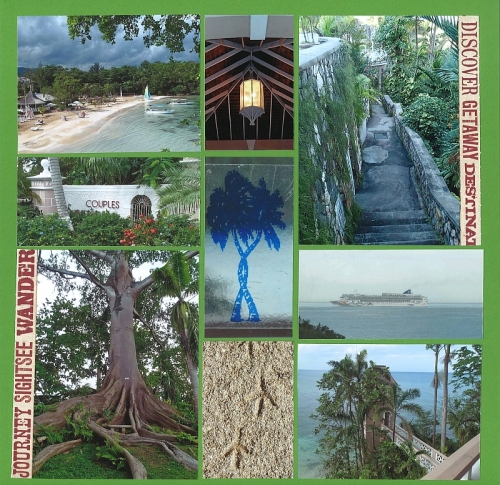 This page includes a photo of some bird prints in the sand,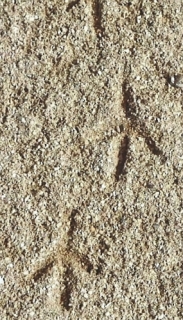 the huge tree there, one of the various stairway paths,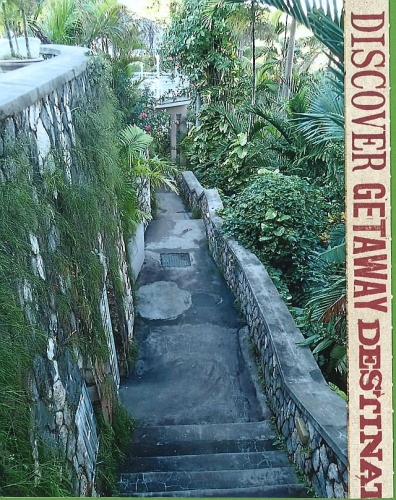 the lantern in the entryway, and the elevator tower (yes, there is an elevator in there that goes down to the beach level!).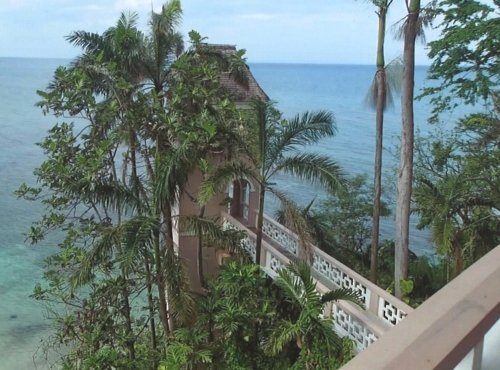 On this page, I used the two corner photos at full 4 inch width. As the area on the grid paper is 4 3/8ths, rather than mounting them, I added a strip of words to the side to fill out the area. The words come from a a die cut sheet by Teresa Collins, "World Traveler".

As a final note, the color grid paper I used was Spring Green...really a great color for tropical photos!
Hope you enjoyed my escape to one of my FAVORITE spots of all time!
Shared by Lori Hanson on January 4, 2014 | Memory Date: January 4, 2014