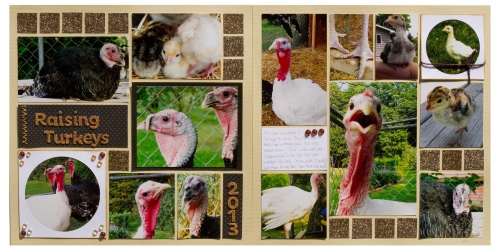 Last year, on a whim, we decided to raise a couple of turkeys for the holidays.
They turned out to be the best turkeys we have ever eaten.
This year, I wanted more turkey that we could cook and keep in the freezer for sandwiches, soups and regular dinners. I also wanted to try a different variety.
So, we bought four of the turkeys we had last year (the kind that used to be served on Thanksgiving in the 1940s) and two white turkeys (the kind you buy today in the supermarket).
Matt reworked the turkey coop so it remains free of smells (turkey poo really stinks!) and relatively clean. The new coop has allowed us to interact much more with the turkeys, creating even more enjoyment.
We ended up with three males and three females -- 2 each of the brown turkeys and 1 each of the white turkeys. I think our odds turned out pretty well, since I just picked the ones that wanted to come home with me!
It amazes me at how fast they grow. I could once cradle a turkey in my hand. Now one foot is as big as my hand!
Few of the turkeys are named -- the runt is Peck because she would go from turkey to turkey pecking them when she was little. I guess she thought she was the leader!
I also named the largest, alpha male Marshmallow. He is always front in line when I have a treat of cucumbers or tomatoes from the garden. He also likes to bite me when I unlock the pen or take him water.
The other white turkey, a female, is named Princess because she is always standoffish -- reminding me of a diva who thinks she is above everyone else.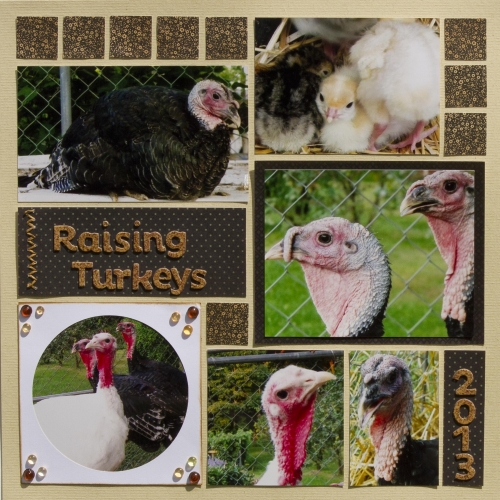 I wanted to show some the enjoyment of raising the turkeys on this layout. I used Husk Mosaic Moments paper for the background and added a bit of patterned paper from KaiserCraft.
Our challenge was to use circles. I used Circle Tiles from Mosaic Moments in white. I inked the edges with Distress Ink and added a few Dewdrops from Robin's Nest on one tile and tied a bit of string on the other.
We were also asked to sew on our pages. I cannot sew, so I used Sew Easy products from We R Memory Keepers and floss from Karen Foster to create the zig-zag stripe on my title block.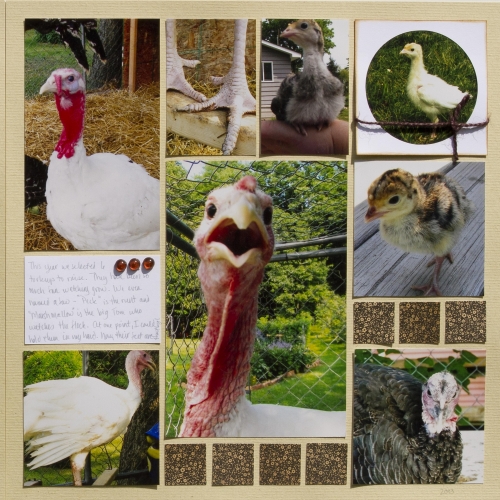 That is Marshmallow -- we call him Marsh, for short -- looking at the camera. I had that photo printed as a 5x7 so it would stand out. The Circle Tile with the string wrapped around it shows him as a baby.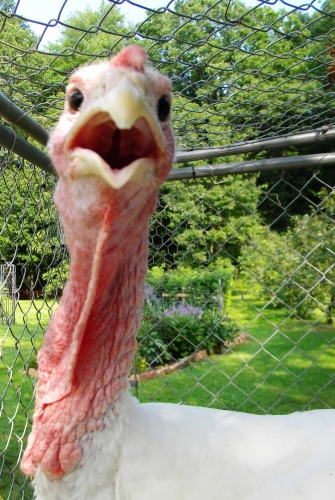 Shared by Candy Spiegel on September 8, 2013 | Memory Date: September 8, 2013