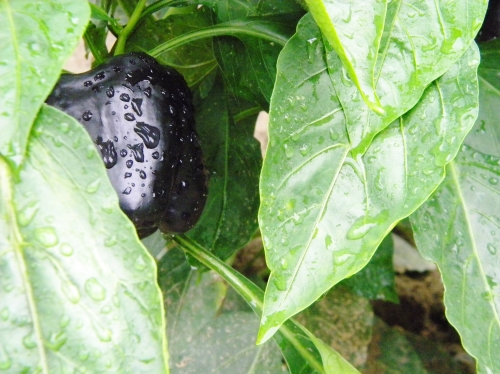 I guess you could say it took me by surprise. Or, more likely, it was something I never paid attention to before. But when I finally realized it, I knew I had to scrapbook it.
I know it sounds silly, but I never noticed how much a plant's leaves protect its fruit before.
The window over my desk in my studio looks directly onto the garden. This year, I planted plenty of colorful plants ... purple peppers, red peppers, yellow squash, red tomatoes, eggplant ... expecting to see the wonderful colors from my window.
Instead of all of these wonderful colors, I was treated to a garden of green, since all of the vegetables are hidden under the leaves.
I wanted to show the excitement of getting down on the ground or moving the leaves aside and finding the bright, beautiful colors of produce I planted. Here is what I came up with.
I created a panoramic of the corn, since that sits in the back of the garden and watches over everything. It amazes me how much the actual corn blends in with the leaves -- hidden from predators.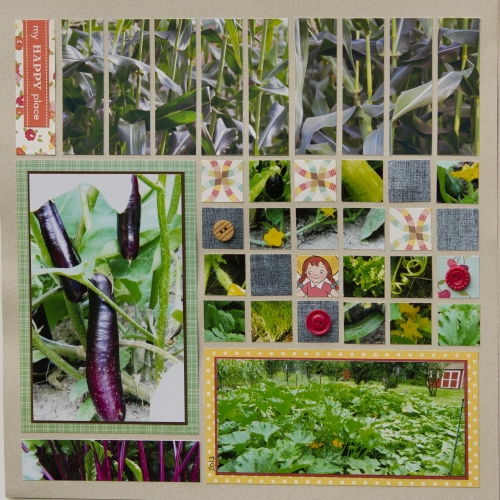 On the left side, I showed how green the garden looks -- even the squash blossoms are hidden underneath the foliage. Then, I also included the eggplant and the stems of the beets so you could see what is hiding underneath.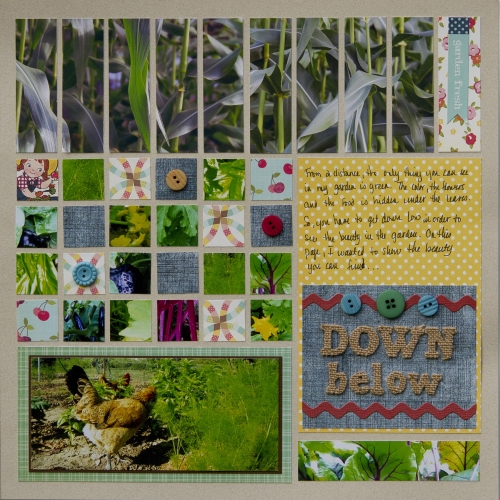 On the right side, I included a photo of the chickens in the garden ... their short stature allows them to see the produce all of the time ... and the journaling about what you find if you look down below the leaves.
Across the middle of the page, I included little glimpses into what you might see if you look below the leaves.
I hope you enjoyed this peek into my garden as much as I enjoyed taking the photos for it.
Shared by Candy Spiegel on August 7, 2013 | Memory Date: August 7, 2013