This time, the challenge was to create a page that showcases our place in the world, using page pattern #48. I turned the pattern to fit my photos better.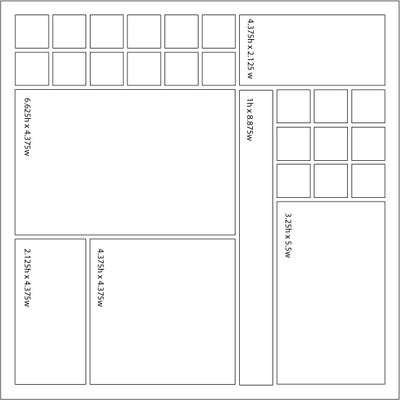 For me, this challenge was easy. My favorite place in the whole world is springtime in my backyard. While I love being in my yard during every season, the spring, when the lilacs are in full bloom, is especially peaceful.
During this special time of the year, the entire yard smells like lilacs and every time the breeze goes by, that sweet, fragrant smell intensifies.
This time is special since it is before lawn mowers and leaf blowers and the only sounds are those made by birds searching for places to start their new families.
Of course, I also love being in the backyard because I can let my chickens out to roam.
Here's the page I created ...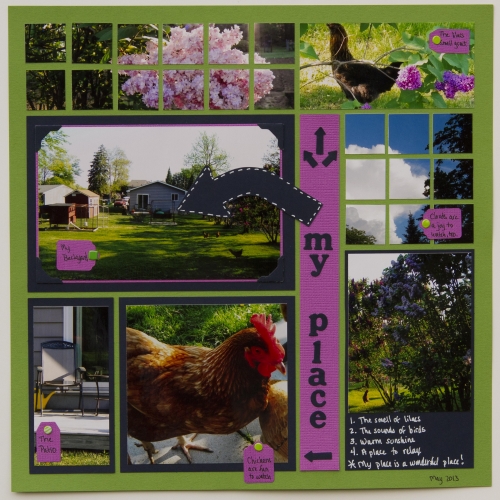 I used Spring Green Mosaic Moments Grid Paper. I love the bright green! I added Navy Mosaic Tiles for photo mats and used others to cut out the arrows, photo corners and letters.
I needed a third color, so I opted for a bright pinkish purple cardstock for the rest.
Although I took a photo of my entire backyard, I wanted to highlight my favorite seat in the yard -- my swing. My husband bought it for me for Easter about 8 years ago. I could sit there and watch my chickens play for hours.
So, to make that little spot stand out, I cut out a large arrow using my Cricut and used a white pen to create faux stitching. That swing is my place in the world!
As part of the challenge, we were asked to use mini tags and I cut mine out of cardstock using a QuicKutz die and attached them with brads.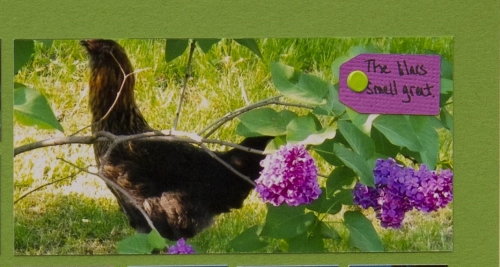 We were also asked to create a list ... I chose to do my journaling in list style, like this: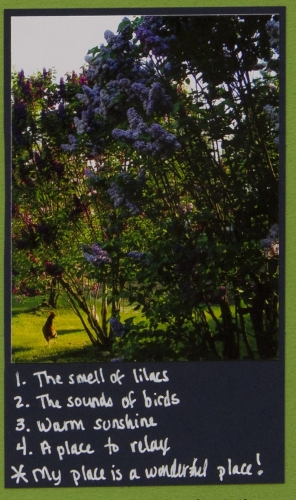 Shared by Candy Spiegel on July 6, 2013 | Memory Date: July 6, 2013